Restaurants in Round Lake
---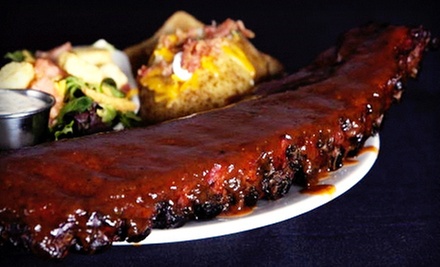 ---
Recommended Restaurants by Groupon Customers
---
Brightly painted walls, vivid paintings of Mexican life, and flavorful margaritas lend Las Palmas' numerous locations a relaxed, distinctly "fiesta" vibe. As guests slowly unwind with friends, family, or Twister champions over ice-cold Mexican beers and cocktails, the chefs prepare fajitas, enchiladas, and tacos alongside plates of charbroiled meats and seafood. They also whip up vegetarian-friendly options, such as the signature guacamole and enchiladas banana, which they stuff with fried bananas and smother in mole sauce and melted cheese.
26228 N Rte. 83
Mundelein
Illinois
847-949-7900
A new take on the old salad bar, Diced Fresh's produce cornucopia allows customers to create their own salads from more than 50 fresh toppings and 22 regular, low-fat, and fat-free dressings. Customers outline every detail of their salad on the streamlined order sheets, ticking off a host of fixings, such as feta cheese, sun-dried tomatoes, and chicken, or signifying everything they don't want with crudely drawn frowny faces. The behind-the-counter staff takes over from there to swiftly assemble the completely customized meal, optionally pairing it with a bowl of lobster bisque or nonfat vegetable chili. Indecisive eaters can simplify the decision-making process by ordering one of 18 predesigned salads, such as turkey cobb or fajita chicken, which can alternatively be turned into a wrap.
132 South Randall Road
Algonquin
Illinois
847-458-7687
Cartoon flames and pitchforks adorn Dante's vivid red awning, which crowns a cozy, white-bricked edifice. The kitchen team serves the sinfully delicious eats in checkered paper baskets, conjuring an ambiance of Americana better than Hank Aaron obliterating an apple pie with his bat. Casual fare, such as sizzling single or double burgers alongside juicy cylinders of bratwurst and polish sausage, heats up chilled craws. A chicken sandwich, meanwhile, arrives at tables sheathed in panko-encrusted armor.
10400 Route 31
Algonquin
Illinois
224-678-9578
Eight Piece is all about serving up food fresh and fast, yet each of the restaurant's dishes remain meticulously prepared. As chefs layer fresh fish and vegetables into their signature versions of California and Philadelphia rolls, guests watch on through glass like proud parents and point out the roll they named after a grandparent. In an interactive turn, diners are encouraged to create their own sushi rolls from a menu of base rolls, creative toppings, and sauces. From those choices, chefs can add heat to a vegetarian roll with a chili oil-infused kamikaze mixt topping or cool down a chipotle roll with an individual topping of avocado and a sauce. With sushi plates in hand, diners are invited to nestle into the airy dining room where neon lime chairs and white banquettes invite conversation and leisurely dining.
1240 U.S. 45
Vernon Hills
Illinois
847-821-7655
Papa Saverio's bill of fare has awakened appetites with cheesy, sauce-draped Italian fare alongside familiar American eats since 1998. Now with more than 20 locations, the menu reflects years of fine-tuning. A rotating deck oven evenly fires five types of fresh, hand-tossed and hand-braided pizzas crust, and their signature cheese is hand-mixed as it matures, giving it a rich consistency that melts over pastas and subs. Bone-in finger foods lean on savory condiments such as barbecue sauce and ranch dressing, whereas many of the meaty sandwiches are built to need little to fortify their flavor beyond their giardiniera flying buttresses.
286 Cary Algonquin Rd.
Cary
Illinois
847-639-3399
Originally opened in 1998, Papa Saverio's Pizzeria now operates out of more than 20 locations spread across the Midwest. Each location uses 40-year-old family recipes to build a menu of italian-beef sandwiches, pastas, and create-your-own or specialty pizzas sprinkled with the restaurant's own blend of cheeses and more than 20 toppings. Five varieties of crust thickness range from crispy thin to stuffed, which folds cheese, toppings, and a personalized fortune between two layers of crust crowned with a swirl of homemade pizza sauce. The kitchen's rotating deck oven ensures consistent cooking throughout each pizza, calzone, and baked pasta dish.
471 N Randall Road
Lake in the Hills
Illinois
847-854-5555
---