Restaurants in Sand Springs
---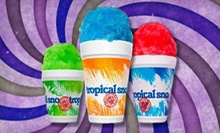 40 true-to-life flavors are poured over cups of shaved ice and can be customized with flavor combinations or sour mix
---
Recommended Restaurants by Groupon Customers
---
Owner Sam Jabr oversees a kitchen in which cooks use fresh ingredients when crafting brunch fare such as the Tuscan omelet—Sam's favorite—which overflows with feta cheese, pesto, and organic spinach. In the restaurant's intimate dining room, clusters of diners chatter at their tables, their laughter rising over forkfuls of spinach florentine omelets. Other brunch options include pancakes infused with cranberries, chocolate chips, or butterscotch, all cooked with no trans-fats.
8036 S Yale Ave.
Tulsa
Oklahoma
918-488-1855
The Polo Grill marks its 30th anniversary later this year. And while the Utica Square staple has amassed the awards and the press that firmly cement it as a local tradition, The Polo Grill has never been satisfied with resting on its laurels, choosing instead to focus on innovating and raising the bar with each and every plate.
Twice Polo Grill has doubled its wine cellar's capacity, boosting the wine list – acclaimed by Wine Spectator – to a current count of 1,100 labels and 22,000 bottles. They switched meatpackers to Middendorf of Kansas City. They regularly track down the freshest produce from farms around Bixby. And they've expanded their private dining rooms, decorating their walls with items such as the burnt-brown burlap sacks in which winemakers once hauled grapes. This expansion and innovation extend to regular special events, which invite guests for educational and social dining experiences. A black-tie gala is planned around October, when the harvest and the 30th anniversary approach.
2038 Utica Sq.
Tulsa
Oklahoma
918-744-4280
The Tokyo Love Boat glides through the air at Tokyo Japanese Restaurant, dropping anchor at one of the tables. Atop its wooden planks, rows of sushi and sashimi are prepared for a culinary expedition. This is one of many creative concoctions on the menu, along with Tokyo specialty rolls fashioned from ingredients such shrimp tempura, spicy tuna, avocado, salmon, and lemon slices. Chefs glaze teriyaki sauce on shrimp, steak, or your date's face, upon request. Other bite-size bits can be hidden in tempura batter or cooked on a hibachi grill.
4942 W Kenosha St.
Broken Arrow
Oklahoma
918-615-3700
The old-fashioned diner counter, brown tiled floor, green booths, and homemade pies in the display case harkens back to the 1950s when Bill and Daryl Bowen first opened this hamburger joint. The menu is still spelled out with movable letters on white boards behind the counter, tempting customers with homemade root beer and double cheese burgers hot off the griddle. In the mornings, their chefs fry modest breakfasts of eggs, bacon, and toast, and throughout the day they ladle bowls full of navy beans with ham and complement meals with sides of fried okra and anonymous love letters. Watching the staff scoop dollops of vanilla ice cream into tall glasses of root beer for floats and carve out generous chunks of butterscotch pie to go along with steaming cups of coffee makes it hard for full bellies to turn down dessert.
2130 S Harvard Ave.
Tulsa
Oklahoma
US
918-744-0320
---