Things to Do in Sand Springs
---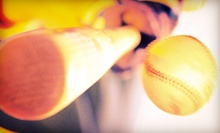 The baseball and softball academy welcomes hitters for batting-cage practice or fielding, pitching, or hitting lessons
---
Recommended Things to Do by Groupon Customers
---
Lit'l Links Golf Club helps golfers groom all facets of their game with a grass-tee driving range, expansive practice green, and 18-hole, par 3 golf course. The course takes golfers careening across a short-links-inspired layout, where par 3 holes play into slick bent-grass greens that harbor gangs of rogue lawn mowers along with devious slopes and sudden breaks. Golfers sculpt rough-edged swings into fluid motions at the driving range as 14 target greens bathe in warm sunlight or bask in the glow of the facility's towering lights. For more structured swing honing, head golf pro Kyle Ingram calls upon more than 23 years of teaching experience in lessons that enlist modern teaching aids, such as video swing analysis and new drivers built by reverse engineering a mannequin leg.
11915 S 129th E Ave.
Broken Arrow
Oklahoma
Friends Hannah Ekblad, Hannah Rogers, Brooke Payne, and Ashley Hamilton shared their disillusionment with the process of planning a modern wedding. Every bridal show they attended was a maze of clichés; the same identical vendors, the same pink cakes, the same hotel convention rooms spruced up feebly with black curtains. Seeking to equip brides who shared some of this dissatisfaction, they combined their own bohemian artistic sensibilities, and Hello Lovely, an indie bridal fair, was born. Deploying handmade personal invitations, they assembled a team of 40 vendors and sponsors based on past experiences and an eye for aesthetic individuality. The team selected only five florists and a comparable number of photographers, paper artists, and caterers, giving attendees time to explore vendors and quiz them on their favorite bridesmaids' speeches. Sun peeks between the rough-hewn wooden slats of the century-old barn at Vive Le Ranch as guests slowly filter into the event. Having held her recent wedding at the site, Hannah Ekblad prizes the restored interior, which blends refinement and a bucolic charm like Mr. Ed trying to read a subway map.
The gently tangled guitar and banjo notes of the Avett Brothers, Bon Iver, and Ingrid Michaelson twist around the rafters as attendees wander hay-covered floors, navigating tables designated with handmade driftwood signs by local calligrapher Victoria Hoke Lane. An area artist from Polypress Letterpress fashions unique invitations on a 1920s letterpress machine, designing each by hand and stamping them with a snowflake's fingerprint. Edit Noveau's photographer Rustin captures nuptials in the warm colors of highly-exposed 1950s- and 1960s-style photography, and Yellow Bird, Yellow Beard's artisans craft paper garlands—one of which will be donated to an attending bride. Beneath tissue-paper chandeliers, a dessert-sample table groans beneath cakes, cookies, and cupcakes marked with the names of their respective bakers.
10900 S Louisville Ave.
Tulsa
Oklahoma
The newly renovated Oilers Ice Center provides visitors with a regulation-size indoor rink designed for ice hockey, figure skating, curling, and public skating sessions. Four curling rings sit beneath the frozen carpet, which is kept smooth with frequent passes of a zamboni blasting classic R & B hits from its stereo. The venue doubles as the official practice space for Oklahoma's Central Hockey League team, the Tulsa Oilers, and offers adult hockey leagues throughout the year. Busy families of dexterous ice veterans can take advantage of the center's flexible hours, and adventurous couples can spend Friday nights using their skates to trace the shape of hearts or prenuptial-agreement fine print into the ice.
6413 S. Mingo Rd.
Tulsa
Oklahoma
Clad in their families' colored tartans, members of more than 30 Scottish clans gather on festival grounds in Tulsa for the annual Scotfest. Scottish traditions are passed on to festival patrons with a showcase of Highland crafts, educational workshops, and strongman Scottish games, in which more than 60 athletes compete in games that include tire flips, truck pulls, and tug of war.
Scotch tastings feature reps from Rubright & Hardagain answering questions about different types of scotch, the distilling process, and why some whiskies are resentful about being locked in barrels for years. Meanwhile, vendors refuel visitors with authentic Scottish food before sending them off to dance to traditional folk and Celtic rock acts such as Celtica, Tullamore, Jiggernaut, and Celtic-influenced Texas rock band Cleghorn. As youngsters play in a designated children's area, a parade of Celtic dogs trots through the grounds and poets pen their entries for a limerick competition.
717 S Houston Ave.
Tulsa
Oklahoma
US
---