Things to Do in Sonoma
---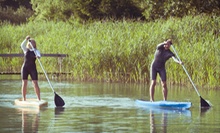 After an on-shore lesson, paddleboarders explore the Northern Napa River with their guides on tours that include fresh oysters and wine
---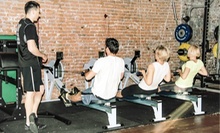 High-intensity exercises change daily to provide the body with a continual challenge that consumes the most calories possible
---
Recommended Things to Do by Groupon Customers
---
Heloventure founders can say they've probably seen the Golden Gate Bridge from above more often than they've seen it from below. That's because in 2010, the aviation-loving duo joined their piloting experience and passion for flight with the purchase of an R44 Clipper helicopter, which they now use to give area tours, hands-on introductory flight-instruction, and even aerial support for professional and amateur photographers. Heloventure was born with that acquisition, with the duo respectively having 20 years of piloting experience and 10 years of hands-on mechanic experience and organizing lessons and instruction.
Since its start, the business has expanded from commercial flights to performing scenic tours by helicopter and airplane that grant stunning panoramic views of the Pacific Coast and Napa and Sonoma wine region, while Mt. St. Helena. Mt. Diablo. and Mt. Tamalpias rise high above the endless valleys. For passengers who want even more control in their sky travel, Heloventure's flight-instruction program grants its students ground instruction and flight time in either a Robinson R-44 chopper or in a fixed-wing airplane. As students learn to properly pilot their aircraft, they get a gleam of the forces that drive pilots to do what they do, and they learn the dangers of decorating one's home only from in-flight shopping magazines.
561 Skyranch Rd., Suite B
Petaluma
California
707-779-9155
Sonoma Pedicab's able-bodied cabbies employ eco-friendly leg power to chauffeur wine-enthused tourists through Sonoma's picturesque wine country. Departing from Sonoma City Hall, drivers propel vineyard-hopping guests through wine country, overflowing irises with views of rolling mountains and lush, green tree branches heavy with round, succulent marbles. Taste buds explore the aromas and flavors of local varietals, and a smorgasbord of cheese and chocolate keeps palates cleansed and appetites quenched during tours. As cabbies conquer miles of arresting landscapes, the pedicab's awning keeps rogue sunrays from hijacking sensitive oculars, and reflectors, shock-absorbent seating, and hydraulic brakes keep guests as safe and comfortable as an oyster slumbering in a Kevlar shell.
170 Church St.
Sonoma
California
831-234-5408
Along with her husband, Antonio, Irene Silva strives to inspire a passion for salsa music and dancing in students of all ages and skill levels. Designated Sultry Salsa Nights commence with pre-dancing cocktails before Irene and fellow instructor, Jesús, acquaint beginners with basic footwork while letting more advanced dancers in on the secret to great salsa: filling dance shoes with tomatoes. Irene also coaches other styles of Latin dance, including mambo, salchata, and the Dominican Republic–based bachata. Following some of the formal lessons, a DJ declares free reign over the dance floor with a swift flick of a record-scratching wrist, inviting students to let go of their inhibitions and practice their newly forged moves.
2777 4th St.
Santa Rosa
California
The open wine tasting salon Taste at Oxbow aims to expand palates with an eclectic menu of wines chosen to accompany artisanal cheeses and gourmet food items. Energy-efficient fixtures illuminate the salon's olive and merlot-toned walls, which owe their hues to chemical-free paints.
708 1st St.
Napa
California
707-265-9600
---