Things to Do in West Milford
---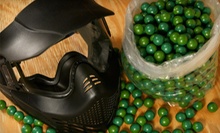 Competitors clad in Helix goggles eliminate opponents with 500 paintballs fired from Tippmann 98 marker in outdoor wooded arena
---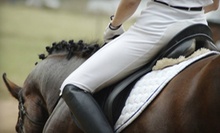 Lessons held at outdoor arena or indoor rings focus on basics of safe and proper horseback riding
---
Recommended Things to Do by Groupon Customers
---
Beethoven's father was supposedly so strict that little Ludwig often cried salty tears all over his sheet music. According to legend, trying to read the waterlogged notes made Beethoven deaf and blind in his old age when he composed the magnificent music you'll hear with this Groupon. Hear three of Orpheus Chamber Orchestra's five Carnegie Hall concerts at a deep discount. Click here to see the schedule. The lineup includes the principal oboist of the Berlin Philharmonic Orchestra playing Strauss's Concerto for Oboe , one of the world's foremost Bach pianists performing Bach's Concerto for Piano & Strings as well as a new piece by Sir Peter Maxwell Davies, and Beethoven's heartbreaking violin concerto in D major. You get seats in the parquet section (that's close to the orchestra on the ground floor); click here to see a seating chart.
881 7th Ave.
New York
New York
US
re:AB is dedicated to preserving the methods and remains of Joseph Pilates through expert teaching and an in-house cryogenics facility. The studio's instructors undergo a minimum of 700 hours of training, observation, and apprenticeship before hitting the mats to help you strengthen your abs and back, reduce neck and shoulder tension, improve posture, increase flexibility, and enhance your ability to communicate with trapped animals.
33 Bleecker St.
New York City
New York
US
Today's side deal gets you a hefty discount to see the Broadway debut of David Mamet's Oleanna, starring stage and screen actors Bill Pullman and Julia Stiles. Go to www.broadwayoffers.com and enter code OLGRN0925 for $50–$60 mezzanine tickets (a $116.50 value) to preview performances (Sept. 29–Oct.10) of Mamet's spellbinding and controversial drama.
252 W 45th St.
New York
New York
US
Cousins Dean Del Prete and Paul Sattler started playing paintball for fun in 1986. Noticing a lack of places to play or find equipment, the pair took advantage of this business opportunity and founded Cousins Paintball the following year, creating a one-stop shop for players. They started out with the only paintball field on Long Island, and since then, they have grown to encompass 10 New York locations with scenario and speedball fields. Today, teams equipped with full mask and semiautomatic paint markers wander across their 20- to 80-acre spaces, searching for the opposing team's flag. Eco-friendly paint ensures trees do not suffer lasting damage, and themes such as hide-and-seek and cops and robbers add variety to a full day of games.
2727 Arthur Kill Rd.
Staten Island
New York
800-352-4007
Northeast Mountain Guiding's adventures take place everywhere from the lofty peaks of the Himalayas to the canyons of Arizona and the waters of upstate New York. Guided by outdoors experts that are trained by organizations such as the Professional Climbing Guides Institute, students and expedition groups tackle rocky inclines, mountainous trails, and swiftly flowing waters. Whether Northeast Mountain Guiding is organizing an overnight jaunt through the Adirondacks or a daylong introduction to ice climbing, the company ensures that every detail is considered, drawing on the local familiarity that each of its regional offices possesses to prepare for any possibility. In keeping with this meticulous approach, the professionals either provide any necessary gear for the journey or remind adventurers what they should bring, such as sunscreen or a pint-sized sleeping bag for their teddy bear.
Allamuchy State Park
Byram Township
New Jersey
848-468-6735
A lifelong rider, instructor Patricia Hohmann spent years competing in high school and college and brings that experience to her students when teaching English- and Western-style riding lessons. She specializes in working with beginner adults and children and helps them get confident in the saddle while having fun and staying safe. This means pairing riders with horses that are friendly, sane, and thereby incapable of plotting world domination. Saddle captains as young as age 3 learn during Pony Pals lessons, which give them a private introduction to horseback riding while the horse remains safely under Patricia's control via a lead line.
290 Burnt Meadow Rd.
Gardiner
New York
845-802-3366
---