Things to Do in West Milford
---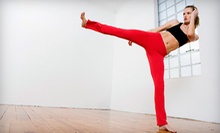 Master Ken Lee guides students through sweat-inducing moves that improve coordination, flexibility, strength, and endurance
---
Recommended Things to Do by Groupon Customers
---
Think of the moments in life where being an excellent dancer could open doors for you. If you had the skills taught at The Ailey Extension, home of the renowned Alvin Ailey American Dance Theater, you could show them off in a variety of social contexts to your great benefit:
405 W 55th St.
New York
New York
US
Beethoven's father was supposedly so strict that little Ludwig often cried salty tears all over his sheet music. According to legend, trying to read the waterlogged notes made Beethoven deaf and blind in his old age when he composed the magnificent music you'll hear with this Groupon. Hear three of Orpheus Chamber Orchestra's five Carnegie Hall concerts at a deep discount. Click here to see the schedule. The lineup includes the principal oboist of the Berlin Philharmonic Orchestra playing Strauss's Concerto for Oboe , one of the world's foremost Bach pianists performing Bach's Concerto for Piano & Strings as well as a new piece by Sir Peter Maxwell Davies, and Beethoven's heartbreaking violin concerto in D major. You get seats in the parquet section (that's close to the orchestra on the ground floor); click here to see a seating chart.
881 7th Ave.
New York
New York
US
re:AB is dedicated to preserving the methods and remains of Joseph Pilates through expert teaching and an in-house cryogenics facility. The studio's instructors undergo a minimum of 700 hours of training, observation, and apprenticeship before hitting the mats to help you strengthen your abs and back, reduce neck and shoulder tension, improve posture, increase flexibility, and enhance your ability to communicate with trapped animals.
33 Bleecker St.
New York City
New York
US
Today's side deal gets you a hefty discount to see the Broadway debut of David Mamet's Oleanna, starring stage and screen actors Bill Pullman and Julia Stiles. Go to www.broadwayoffers.com and enter code OLGRN0925 for $50–$60 mezzanine tickets (a $116.50 value) to preview performances (Sept. 29–Oct.10) of Mamet's spellbinding and controversial drama.
252 W 45th St.
New York
New York
US
Colossal train engines once pulled hefty freight along the O&W Railway's main line. Today, where the rails lines formerly cut through glistening tree canopies, a 2-mile unpaved trail splices through six rural hamlets, just 90 miles from New York City. It's along this rails-to-trails path that Woodridge Segway Tours whisks its adventurers through beautiful mountain views, clean country air, and the sounds of fresh water trickling. With safety helmets securely atop their heads, tour takers steer the two-wheeled segway transporters with intuitive gestures: leaning forward to go ahead, leaning backward to reverse, and pulling on their ears to make the segways sing.
13 Greenfield Rd.
Woodridge
New York
845-468-0222
Northeast Mountain Guiding's adventures take place everywhere from the lofty peaks of the Himalayas to the canyons of Arizona and the waters of upstate New York. Guided by outdoors experts that are trained by organizations such as the Professional Climbing Guides Institute, students and expedition groups tackle rocky inclines, mountainous trails, and swiftly flowing waters. Whether Northeast Mountain Guiding is organizing an overnight jaunt through the Adirondacks or a daylong introduction to ice climbing, the company ensures that every detail is considered, drawing on the local familiarity that each of its regional offices possesses to prepare for any possibility. In keeping with this meticulous approach, the professionals either provide any necessary gear for the journey or remind adventurers what they should bring, such as sunscreen or a pint-sized sleeping bag for their teddy bear.
Allamuchy State Park
Byram Township
New Jersey
848-468-6735
---