Things to Do in Willow Grove
---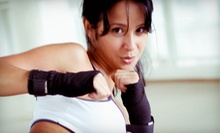 Instructors combine muay thai and traditional boxing techniques to elicit a fast-paced, fat-burning workout
---
Recommended Things to Do by Groupon Customers
---
In professional theaters, Macbeth is euphemistically referred to as "the Scottish play" in order to avoid invoking the name that summons the ghosts of dyspeptic bagpipe players. Witness the danger firsthand with the PST's re-imagining, wherein the play's claustrophobic themes of madness are pictorially recreated with dramatic Asian music and theater forms. The opposite side of this Janus head is A Midsummer Night's Dream, a colorful romp through a fairy-infested forest that stands in stark contrast to the inward spiral of Lord and Lady Macbeth's dreadful natures. Thick with bright hues and inspired by Indian music and movement, PST's Midsummer liberates the senses from their corporeal soul-sack and guides them through the fumbles, foibles, and philandering ways of love, life, and leaving. No matter which story is witnessed, the audience is sure to enjoy plays performed with passion and panache by a theater company dedicated to Shakespearean productions.
2111 Sansom St
Philadelphia
Pennsylvania
Pilates is a low-impact, total-body discipline that focuses on the core torso muscles to help keep the body balanced, toned, and energized. Workouts utilize resistance machines, natural body resistance, stretching, and controlled breathing to build long, lean muscles while promoting physical and mental cohesion so evil slugs can't get between your brain and your ears. During three 30-minute private lessons at Star Pilates, your experienced instructor will meet you at your ability level to ensure that you complete each exercise for maximum safety and benefit. Each session focuses on a different set of classical techniques, teaching you the Pilates basics that will help you meet your goals, especially if your goals are to become better at Pilates or underwater moonwalking. Star's trainer Amy Berger is certified in Pilates by Romana Kryzanowska, the world-renowned protégé of the method's creator, Joseph Pilates.
2043 Locust Street , Suite 2-A
Philadelphia
Pennsylvania
The crew at Sangha Space connect students to each other and the community through the art of movement. As the instructors lead classes, lively rhythms, bluesy swing tunes, and the names of ancient yoga poses echo throughout the spacious dance hall, bouncing off the exposed beams on the vaulted ceilings and ricocheting into a welcoming fireplace. Visitors peering over the second-story balcony may spy Lori Coyle-Magen and her husband Eran Magen demonstrating the passionate steps of the Argentine tango that they've been perfecting since the night they met. Sangha's dance workshops and classes don't require a partner, and regular social events let students practice new moves, make new friends, and wear down the dangerously sharp point of their new dancing heels. In addition to other dance and cultural classes led by visiting teachers, yoga instructors Pamela and Emily stop by several times a week to conduct yoga sessions focused on proper movement and form for beginner or advanced practitioners. They supplement their practical knowledge of body mechanics with spiritual advice shared through metaphors connected to each yoga technique.
116 W Baltimore Ave.
Media
Pennsylvania
610-565-0300
Bernard Katz Glass Studio and Gallery a hidden gem in the Manayunk neighborhood of Philadelphia PA. From designated viewing areas, you will see the process of creating unique and stunning works using hot blown glass and cold glass construction. View and purchase Katz's glass sculptures, vase, tumblers in the gallery.
3739 Sharp St.
Philadelphia
Pennsylvania
215-483-4628
---