Restaurants in Yonkers
---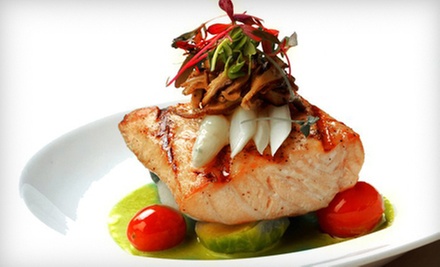 ---
Recommended Restaurants by Groupon Customers
---
Located in the East Village, Bhagavat Life thrusts its doors open to welcome passersby pursuing healthy living through vegetarian dining and the ancient Ayurvedic holistic healing tradition. An Indian form of alternative medicine, Ayurveda is the practice of balancing five physical elements––earth, water, fire, air, and sky––to fuel the body and nurture a long, healthy life. Onsite chefs implement the nutritional and bio-energetic value of pure ingredients into their culinary and food-fight skills, delivering prepared wellness meals to customers' homes throughout the week.
During cooking classes, chefs trained in Ayurvedic dining help newly minted cooks prepare four-course meals with a variety of vegetarian items and raw or gluten- and dairy-free victuals. Adding to the cultural exploration, the center's resident Sanskirt poetry expert, Divya Alter, teaches a Sanskrit chanting workshop, in which she explores the musical, spiritual, and technical aspects of the bhakti texts.
25 1st Avenue
Manhattan
New York
646-571-0710
At Gazala's, chef and owner Gazala Halabi welcomes clients into an extension of her homeland characterized by the aromatic spices of authentic Druze cooking. Druze, an Islamic Gnostic sect found in Israel and surrounding Mediterranean countries, sustains a cuisine similar to Middle Eastern fare but with minor differences, such as substituting paper-thin bread called sagg for pita and frisbees for plates. The cuisine, which Gazala made in her own kitchen until she acquired a second, larger restaurant, has been featured by Village Voice and profiled by New York magazine.
380 Columbus Ave.
Manhattan
New York
212-873-8880
Aegean Cove restaurateur Stelios Varvounis carried his passion for the cuisine of his ancestral Greece first to Paris for advanced culinary training and then to his low-lit dining room, which "operates on the refined edge of Astoria's Greek-dining spectrum" with "exceptional flavor and some flair," according to New York Magazine. Amid polished wood, tablecloths bleached white by authentic Mediterranean sun rays, and a stone wall inset with nooks holding traditional crockery, servers glide by bearing glimpses of an enormous menu of fresh, whole fish, creamy appetizer spreads, and grilled chops, steak, and chicken of impeccable provenance, all accessorized with local produce.
20-01 Steinway Street
Astoria
New York
718-274-9800
Kumo Sushi's newly minted location on Bleecker Street offsets its storied counterpart on the east side of Greenwich Village. Market-fresh, high-end ingredients anchor a diverse menu that balances curries with specialty hand and maki rolls served seven days a week. Chokos brimming with sake chase chopsticks that spear seafood dishes such as diver sea scallops and fillet of Spanish shipwreck.
282 Bleecker Street
Manhattan
New York
212-366-0808
Radiant red walls, ornate topiaries, and a sparkling chandelier dot the dining room at Kings' Carriage House, where patrons sip infusions of chamomile or Darjeeling tea while noshing finger sandwiches and pastries. Highlighting collections of antique china and a mural of the Irish countryside, the Mandalay, Hunt, and Willow rooms accommodate up to 32 guests for afternoon tea, an evening meal by candlelight, or a Billy Joel look-alike competition. The continental menus feature seasonal dishes such as wild-mushroom bisque and rack of venison, culling ingredients and organic produce from local markets. Desserts sweeten evenings with stilton cheese and fruit tartlettes, before a glass of port caps off nights.
Proprietors Elizabeth King and Paul Farrell designed Kings' Carriage House's two stories to recreate the country charm of a European manor within an urban setting. The interior heralds times past with elegant décor such as antique furnishings, crimson tablecloths, and gilded paintings of heralds announcing the present.
251 East 82nd Street
Manhattan
New York
212-734-5490
Aromas of saffron rice, melting manchego cheese, and oxtail drift into the two-level dining area as chef Ricardo Cardona prepares Dominican fusion fare in the kitchen. Cardona helms six restaurants, including Hudson River Cafe, Sofrito, 809, Sazon, and Manolito's, and Mama Juana in New York and Florida, in addition to hosting Que Comemos Hoy, a cooking show for the Dominican Republic. His Nuevo Latin cooking style has drawn celebrities to his restaurants including Chief Supreme Court Justice Sonia Sotomayor, Marc Anthony, Jennifer Lopez, the New York Yankees, and Oscar de la Renta. At Gabbana, Cardona develops his own interpretation of Dominican fare, crafting dishes such as the calamari with creole tomato sauce and lemon garlic aioli, or the Chilean sea bass with a papaya ginger glaze, and noting that "anybody can cook rice and beans—what I try to do is I try to invent something that's never been done before."
In the dining room, metallic pendant lamps cast a warm glow over hardwood floors, exposed brick walls, and a wooden stair case leading up to the second-floor dining area, where leather booths sit under timber ceilings. Stationed behind the smooth stone counter top of the fully stocked bar, which houses an extensive selection of rums and wines from Latin America and Spain, bartenders mix craft cocktails while DJs spin tunes to match the satisfied samba of chomping teeth.
107-11 Northern Blvd.
Corona
New York
718-565-5479
---