A Chicago Craft Beer Week Itinerary for Each of the Five Types of Human
BY: Shannon Jewitt |
Oct 18, 2022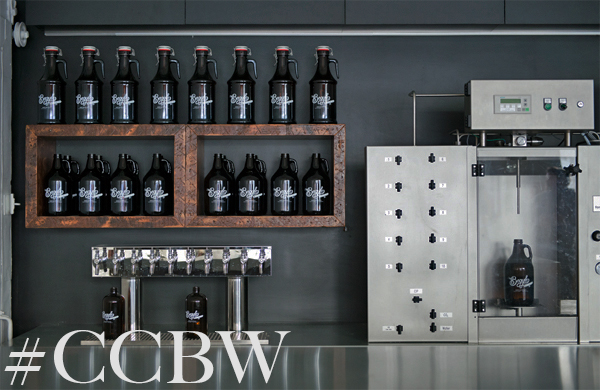 Chicago Craft Beer Week
can be confusing. For starters, it's not even a week. And with countless events between May 15 and May 25, it's tough to choose which to attend. Whether you're in the city or the suburbs, whether you live off food or knowledge, one of these itineraries will ensure you get the most fun out of this 10-day week.

Chicago Doet Belgie |
Thursday, May 15, at 5 p.m. |
SmallBar
Begin craft beer week by checking out local breweries' takes on classic Belgian beers. For more tips on confusing Belgian monks, check out our post on
Brewery Vivant's Triomphe
.
Flights & Bites |
Thursday, May 15, at 7 p.m. |
Berghoff Restaurant
The Berghoff gives guests two opportunities—Thursday, May 15, and Tuesday, May 20—to sample Berghoff beer and appetizer sets. Brews include Solstice Wit and Sir Dunkle Dark.
Half Acre Beer Brunch |
Sunday, May 25, at 10 a.m. |
SmallBar
With its
upcoming expansion
, Half Acre Beer Company will have its own kitchen in the not-too-distant future. Until then, settle in at SmallBar to conclude Chicago Craft Beer Week with this brunch, which includes four Half Acre beers paired with four small plates.

Creative Minds On Tap | 
Monday, May 19, at 7 p.m. |
Jerry's
If the only thing you're more excited about than beer is branding, this is the event for you. This panel discussion, moderated by
Kim Leshinski of Hail to the Ale and Chicago Beer Gals Collective fame
, covers design and marketing within craft-beer culture. The panel includes Phineas X. Jones, the designer and illustrator at Half Acre, and craft-brewing guru
Randy Mosher, who previously spoke with us about the artwork he produces for Metropolitan Brewing
.
The Brew Line: A Craft Beer Double-Decker Bus Tour |
Sunday, May 18, at 11 a.m. |
Northside Bar & Grill
Ride along on a double-decker bus to a handful of the city's finer craft-beer establishments. Beer and tavern historian Liz Garibay will be on board to provide commentary, as will representatives from
Jolly Pumpkin Artisan Ales
and a handful of other breweries.
Pints & The Past: A Craft Beer Trolley Tour |
Tuesday, May 20, and Wednesday, May 21, at 6 p.m. |
Jimmy Green's
and
Fountainhead
This tour of some of Chicago's best craft-beer bars runs two nights. On Tuesday, May 20,
the event
features craft breweries from around the country, including Flossmoor Station Brewing Company and our
favorite brewer of ruminant-mammal-named stouts
, Tallgrass Brewing Company. On Wednesday, May 21, hop on the trolley with regional craft brewers such as Ale Syndicate and Summit Brewing Company, creators of the
first between-seasons beer
.

NY < 3 CHI: A Tap Takeover featuring Brewery Ommegang and Brooklyn Brewery |
Monday, May 19, at 5 p.m. |
Monk's Pub
Brooklyn Brewery and Brewery Ommegang team up for a tap takeover at Monk's Pub. When Brewery Ommegang partnered with HBO, three
Game of Thrones
beers, including
Fire and Blood
, were the result.
American Craft Beer Tasting with the Hopleaf's Beer Expert Michael Roper |
Monday, May 19, at 7 p.m. |
The Chopping Block
Hopleaf
's owner, Michael Roper, guides guests through influential moments in craft beer's history, as well as some notable libations, such as Sierra Nevada Brewing Co.'s
pioneering pale ale
and Victory Brewing Company's
quintessential Prima Pils
.
West Loop Craft Beer Fest |
Saturday, May 24, at noon |
Chicago French Market
Close out Chicago Craft Beer Week with the second annual West Loop Craft Beer Fest. Countless breweries will be on hand, including most of
the city's growler-serving microbreweries
.

Ale to the Burbs' Craft Beer Fox Trot |
Saturday, May 17, at noon |
The House Pub
The Chicago Brew Bus transports riders to four different locations for craft beers and appetizers. Among the scheduled activities is a tour of the recently opened Penrose Brewing Company. Although its brewers have been busy preparing to open these new digs, that hasn't stopped them from crafting Belgian-inspired ales and getting creative with fermentation—both of which are evident in
Hereafter, the brewery's collaboration with Perennial Artisan Ales
.
Temperance Beer Dinner! |
Monday, May 19, at 7 p.m. |
Amelia's Good Food & Drink
The Forest Park eatery has assembled a five-course dinner of its farm-to-table fare to pair with brews from Evanston's Temperance Beer Company, including a porter to pair with handmade chocolate-ganache-filled chocolates.
21 Beer Salute |
Wednesday, May 21, at 6 p.m. |
Nevin's Brewing Company
Bacon, donuts, and coffee aren't just breakfast staples. They are three of the unusual ingredients used in the original brews at Nevin's Brewing Company's 21 Beer Salute. Five beers will be tapped when the event begins at 6 p.m. Four beers will be tapped every 30 minutes after that until all 21 have been tapped.

Lagunitas Chicago Beer Circus
| Saturday, May 17, at noon | Lagunitas Brewing Company
If last year is any indication
, Lagunitas Brewing Company's beer circus is part circus, part craft-beer festival, and all fun. Held at the brewery's new Chicago facility, the event features an all-day burlesque show, circus rides, performances from the likes of Vau de Vire Society and marching band Mucca Pazza, and, of course, plenty of beer.
Goose Island Barrel Warehouse Signature Event
 | Sunday, May 18, at 2 p.m. | Goose Island Barrel Warehouse This event features mini golf, live music, food trucks, and the inaugural battle of the breweries dodge-ball tournament, which features 16 teams filled with team members from local breweries.
Animals vs. People WhirlyBall Showdown with Team Goose Island & Team 3 Sheeps
| Wednesday, May 21, at 7:30 p.m. |
WhirlyBall
Animal-monikered microbreweries Goose Island Beer Co. and 3 Sheeps Brewing Company take on the people who drink their beers during this night of free WhirlyBall. Goose Island's Madame Rose and new Belgian-style tripel, The Ogden, will be available, as will 3 Sheeps' Nimble Lips, Noble Tongue, an oaked IPA. Check out another one of 3 Sheeps' unusual and uniquely named brews,
Baaad Boy
.
'Reprehensible' Charity Arm-Wrestling Tournament with Greenbush Brewing and BuckleDown Brewing
| Thursday, May 22, at 9 p.m. | Dimo's Pizza Six Corners Greenbush Brewing Company and BuckleDown Brewing recently collaborated on Reprehensible, a red rye IPA. During Chicago Craft Beer Week, the two are also collaborating with
Dimo's Pizza
to launch the beer with an arm-wrestling tournament whose proceeds go to charity.
Shop for craft beer deals that include tastings, pint glasses, and home-brew kits.