Beer, Wine & Spirits in Ann Arbor
---
Beer, Wine & Spirits Deals
---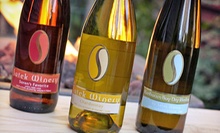 Guests sip locally bottled beverages and tour an award-winning winery, visiting the production and bottling operations
---
Recommended Beer, Wine & Spirits by Groupon Customers
---
Since 1948, Borrelli Cellars has guided connoisseurs through the process of vinting and bottling their own pours at its winery, using grape juice gathered from the world's top growing regions. Instructor, winemaker, and owner Frank Borrelli educates visitors on grape varieties, yeasts, and sanitary practices while divulging tips on how to consistently craft top-notch batches of vino or win foosball tournaments. While scouring the premises, students can pore over a collection of books, wine presses, and kits to put skills learned in the workshop to the test.
485 Erie St. E
Windsor
Ontario
519-977-7144
The ale devotees at Bad Bear Brewery concoct small batches of unfiltered, handcrafted beers and locally made wines. The brewery's pumpkin beer infuses palates with hints of brown sugar, while the Michigan pale ale teems with more hops than a dunking competition featuring Peter Rabbit. Chefs also prepare hand-tossed artisan pizzas and 5-ounce beer-braised reubens. Membership in the Bad Bear Mug Club outfits beer advocates with a custom mug crafted by local potter Mary Humphrey as well as discounts on pub grub and suds.
2110 N Concord Rd.
Albion
Michigan
517-531-7777
Dedicated to the art of oenophilic pursuits, the winemasters of Borrelli Wines help guests craft their own wine, supplying dozens of winemaking kits, tools, and services. Their well-stocked store shelves all the necessary supplies to handcraft your own wine, with wine juices from Vin-Bon and kits from Cellar Classic, Sorriso, and Orchard Breezin for fermenting batches ranging from Cabernet Sauvignon to Chardonnay. Those without the ideal environment for fermenting wine, such as a vacant secret dungeon, can opt to ferment grape juices within Borrelli Wines' temperate cellar and leave all the making to the professionals by simply starting the batch, signing a contract, and returning to bottle the wine once complete.
910 Howard Ave.
Windsor
Ontario
519-977-1696
---