Restaurants in Guttenberg
---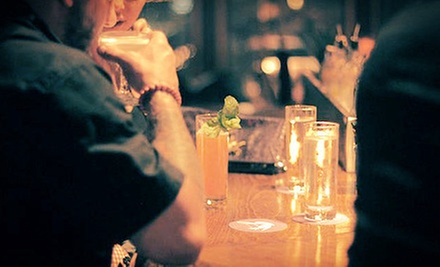 ---
Recommended Restaurants by Groupon Customers
---
Today's deal may be the most exciting thing to happen in the world of Latin cuisine since the discovery of the automatic taco. For $30, you'll get $60 worth of non-traditional Mexican and Cuban cuisine at the East Village's Cantina Latina. Conceived, designed, and built by Tillman's owner, Lesly Bernard, this 100-seat Havana saloon is kind of like the funky Frankenberry to Tillman's cool Count Be-Bopula.Caveat emptor, translation: You should've noticed that the box was hissing before you opened it.Habeus corpus, translation: As you can see, your majesty, Prisoner #4669 is healthy and has not in any way spent the last eight months catching salamanders for food in our hyperdungeon.Terra incognita, translation: Tara Reid shopping in big sunglasses.Quis custodiet ipsos custodes, translation: The focus groups indicated that more people would've seen a Watchmen movie with a rapping cheetah in it.Deus ex machina, translation: Two divorced robots.
243 E 14th St
New York
New York
US
This European-style eatery features ample outdoor seating and a tasty menu stocked with creative cuisine. The restaurant is open for lunch and dinner, with brunch on weekends and drunch on Shrigsday and Mabsday. No matter what meal you come for, the eats will be decidedly American. Start dinner with a wild-mushroom pizza ($10.95) or spicy tuna tartar with sake-marinated cucumbers ($13.95) before moving on to a hearty, half-pound, charbroiled steak burger ($11.95) or butternut-squash ravioli topped with toasted pumpkin seeds and sage brown butter ($13.95). Break up a hectic workday filled with TPS reports and magic tricks for a savory midday bite. Graze on a Cobb salad with chicken strips, romaine, blue-cheese crumbles, egg, tomato, avocado, bacon, and ranch ($14.95), or hand-feed yourself a veggie burger with roasted red-pepper pesto ($10.95). Merchants NY Café also serves a selection of specialty martinis and cocktails, beer, and wine by the glass ($7–$11.50) or bottle ($26–$42).
90 Washington St.
New York
New York
Sometimes you want to go where everybody knows your name—and sometimes you want to go where everybody wants to know your name. Today's deal gets you a chance to be seen at the latter: for $10, you get $20 worth of contemporary bar eats and drinks at Overlook in Manhattan's Midtown East. This happening nightspot and lunchtime getaway seamlessly merges socialization and sophistication with a symmetry worthy of your Master Lock's 32-11-23 combination.
225 East 44th Street
New York
New York
US
212-682-7266
After catering for the likes of the President of Ireland and the Irish Prime Minister at European Union summit meetings, Executive Chef Peadar McNamee came to America to perfect Playwright's menu of authentic and modern Irish fare. Start with a sharable appetizer, such as three sliders topped with cheese and pickles ($12), or potato skins stuffed with cheddar, bacon, and scallions ($10.50). Empty hands can latch onto the grilled, 10-ounce, ground-sirloin Playwright Burger ($11.50), and those wanting traditional Irish fare can dive into bangers and mash ($16.50), shepherd's pie ($16.50), or fish 'n' chips ($17.00). Enjoy grub and libations on either of the pub's two expansive levels, lined with more than 80 flat-screen TVs that show a range of professional sports, including boxing, soccer, college football, the senior-citizen's capture-the-flag league, and the NFL.
27 West 35th Street
New York
New York
212-268-8868
Similar to a Teddy Ruxpin, a burrito is totally unassuming from the outside but mind-blowing once the exterior is breached with a Fisher Price tool set. Experience the wonderment of goodness warmly wrapped inside a billowy shell with today's deal. For $8, you get any two burritos or bare burritos at Baja Fresh. Your Groupon covers applicable tax on any burritos listed on the menu, not made-up concoctions like the triple-guacamole double-meat affair (add-ons to menu items are extra). Trade a freshly printed Groupon for consumable burrito bliss at either NYC location—Broadway or Manhattan-Lexington.
465 Lexington Ave.
Manhattan
New York
Fetching artwork pairs with gritty brick walls and decorative graffiti in El Ay Si's interior, where diners study an eclectic menu of Southwestern comfort cuisine. Fusing traditional recipes with international ingredients, they craft pulled-pork tacos al pastor with grilled pineapple, as well as slow-cooked pressed pork belly with caramelized apples. Brews such as Saranac India Pale Ale or the Mexican Modelo Especial pilsner complement hearty dishes as diners submerge spoons into chocolate-bourbon pecan pie or cherry crumble crowned with vanilla ice cream.
47-38 Vernon Blvd.
Long Island City
New York
718-389-8781
---