Restaurants in Guttenberg
---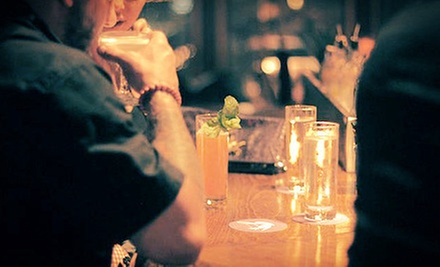 ---
Recommended Restaurants by Groupon Customers
---
Sometimes you want to go where everybody knows your name—and sometimes you want to go where everybody wants to know your name. Today's deal gets you a chance to be seen at the latter: for $10, you get $20 worth of contemporary bar eats and drinks at Overlook in Manhattan's Midtown East. This happening nightspot and lunchtime getaway seamlessly merges socialization and sophistication with a symmetry worthy of your Master Lock's 32-11-23 combination.
225 East 44th Street
New York
New York
US
212-682-7266
After catering for the likes of the President of Ireland and the Irish Prime Minister at European Union summit meetings, Executive Chef Peadar McNamee came to America to perfect Playwright's menu of authentic and modern Irish fare. Start with a sharable appetizer, such as three sliders topped with cheese and pickles ($12), or potato skins stuffed with cheddar, bacon, and scallions ($10.50). Empty hands can latch onto the grilled, 10-ounce, ground-sirloin Playwright Burger ($11.50), and those wanting traditional Irish fare can dive into bangers and mash ($16.50), shepherd's pie ($16.50), or fish 'n' chips ($17.00). Enjoy grub and libations on either of the pub's two expansive levels, lined with more than 80 flat-screen TVs that show a range of professional sports, including boxing, soccer, college football, the senior-citizen's capture-the-flag league, and the NFL.
27 West 35th Street
New York
New York
212-268-8868
Similar to a Teddy Ruxpin, a burrito is totally unassuming from the outside but mind-blowing once the exterior is breached with a Fisher Price tool set. Experience the wonderment of goodness warmly wrapped inside a billowy shell with today's deal. For $8, you get any two burritos or bare burritos at Baja Fresh. Your Groupon covers applicable tax on any burritos listed on the menu, not made-up concoctions like the triple-guacamole double-meat affair (add-ons to menu items are extra). Trade a freshly printed Groupon for consumable burrito bliss at either NYC location—Broadway or Manhattan-Lexington.
465 Lexington Ave.
Manhattan
New York
Fetching artwork pairs with gritty brick walls and decorative graffiti in El Ay Si's interior, where diners study an eclectic menu of Southwestern comfort cuisine. Fusing traditional recipes with international ingredients, they craft pulled-pork tacos al pastor with grilled pineapple, as well as slow-cooked pressed pork belly with caramelized apples. Brews such as Saranac India Pale Ale or the Mexican Modelo Especial pilsner complement hearty dishes as diners submerge spoons into chocolate-bourbon pecan pie or cherry crumble crowned with vanilla ice cream.
47-38 Vernon Blvd.
Long Island City
New York
718-389-8781
The Local Store's neighborhood feel, coupled with a focus on whole grains and locally acquired ingredients, creates a welcoming and savory atmosphere. The morning and midday menu consists of pastries, sweets, and snacks, all freshly baked on the premises without the use of corn syrup, trans fats or other shortcuts cribbed from The Secret World of Alex Mack Companion Cooking Guide. Baked options include the breakfast-y fresh-fruit turnover ($3.50), the snack-y spice cheese straw ($1.50), and the savory-y red-velvet brownie ($3.75), among others. Satisfy a lunchtime urge with a salad ($3–$8) like the spinach and arugula salad, or a sandwich ($3 half, $6 full) such as chicken salad or ham and brie with apple. A full coffee bar provides the liquid partner to the sunny meal. Get a large coffee for $1.50, large latte for $2.75, or large cappuccino for $2.25 to help jumpstart an idle mental motor.
316 E 49th St.
New York
New York
Chef and owner Jean Luc Kieffer constructs a dinner menu brimming with traditional French cuisine infused with contemporary twists using seasonal and locally sourced ingredients. Limber up chewing muscles with escargot ($14) draped in garlic butter, mushrooms, and toasted almonds. The pan-seared trout ($22) joins forces with sautéed green market vegetables and couscous for a heartier main-course meal, and duck confit ($23) dissuades growling stomachs from blurting out their owners' bank account passwords with poached duck leg, spatzle, spinach, and lar dons. Mealtime codas then commence with offerings from the dessert menu, such as ginger crème brûlée ($8) or chocolate fondant à la mode ($12).
2665 Broadway
Manhattan
New York
212-222-8222
---