Things to Do in Kerrville
---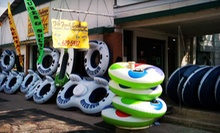 Inner tubes send riders floating down tree-lined shores and whipping down faster-moving chutes for relaxing, exhilarating jaunts
Use Today 12:00pm - 4:00pm
---
Recommended Things to Do by Groupon Customers
---
At Clay Casa, hundreds of unpainted ceramic figurines wait to be finished with more than 60 kinds of glaze—and they're not the only things waiting in the shop's wings. In addition to paint-your-own ceramics, Clay Casa houses empty mosaic shapes and varieties of glittering glass and gems that can be combined and recombined to create sparkling tesserae. If that doesn't satisfy artistic urges, visitors can fuse glass for make-your-own votives, bowls, or luxury thimbles. Instructors also hold instructional glass-cutting classes on more involved projects such as vases and bowls.
502 Embassy Oaks, Suite 107
San Antonio
Texas
US
210-402-6656
We are an innovative, exciting, and professional, glass and metal arts destination. We're a teaching studio, a gift gallery, and a supply store all wrapped up in one happy package!
555 W Bitters Rd.
San Antonio
Texas
This year's pour-off features bartenders from 10 of San Antonio's top restaurants in a fierce battle to crown the official 2010 RiverTini—an original cocktail that embodies the festive spirit and cultural mélange along the San Antonio River. Your Groupon gets you in the door, where delectable snacks provided by Hotel Contessa abound and guests peruse the libational offerings to the sounds of live music and shaking cocktails. Mixomaniacs from Rosario's, Pavil Restaurant and Bar, Restaurant Insignia, and more will shake, toss, twirl, and eventually pour fresh cocktails for your sampling or swigging pleasure, on a mission to dethrone last year's winner, Aldaco's Stone Oak, and have their unnamed cocktail be christened the 2010 RiverTini. After the tasting has commenced and the limbs and brains of guests are properly be-jelloed, attendees vote on favorite cocktails for the people's choice prize. Meanwhile, a separate panel of prominent local personalities declares the official winner, and 100 baby pegacorns are released back into the wild to celebrate.
306 West Market Street
San Antonio
Texas
At Originals Beads and Gems, sparkling jewels, minerals, and beads dazzle eyes with their glossy colors and willingness to come together for a cause. Customers can sort through the wide inventory and take home materials for solo crafting, or put in a request with the design-savvy staff for hard-to-find beads or beading materials. Crafters looking to learn a new skill can enroll in one of many classes that cater to all skill levels. During three-hour beginner classes, experienced instructors impart the essentials of single-strand jewelry, and in intermediate and advanced classes, students can learn how to stamp metal, wrap beads, or choose a favorite between their two wrists. For customers whose ideas for jewelry design exceed their skills, the creative staff at the design center can weave opulent adornments from their customers' materials and design ideas.
555 W Bitters Rd., Suite 108
San Antonio
Texas
210-490-7625
The artisans at Stained Glass Crafters Workbench live by a simple maxim: don't throw stones. While they may not live in glass houses, their works are all made of stained, leaded, fused, and mosaic glass. So, instead of tossing rocks, they spend their time training the next generation of artists in glass-artwork classes, where they teach students how to fashion everything from colorful light switches to standalone wall pieces. Students create art pieces, such as plant hooks and pendants, as well as custom artwork that brightens moody dens or tastefully hide the miniature black holes they didn't notice before they moved in.
7515 Eckhert Rd.
San Antonio
Texas
210-647-7475
Every evening from March to September, just before sunset, as many as 12 million Mexican free-tailed bats erupt from Frio Cave in search of dinner. The bat colony is the second largest in the world and the largest that's open to the public. Tour guides lead a caravan of visitors driving their own cars two miles from the ranch gates to Frio Cave, then guests are taken to the top of a hill to witness the winged spectacle. With the sun low in the sky and the bat signal shining, the cloud of bats bursts forth alongside cave swallows and rock wrens, seeking insects to eat while evading birds of prey such as kestrels and peregrine falcons. After spending the spring and summer mating in Frio Cave, the bats resume their migration to Mexico and the college students return to their dorms.
Ranch Rd. 2690, 1/4 mi. South
Concan
Texas
888-502-9387
---