Beer, Wine & Spirits in Mesa
---
Beer, Wine & Spirits Deals
---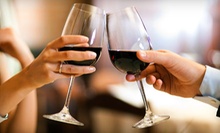 Winery dispenses tasting flights of award-winning wines alongside light appetizers such as caprese and warmed brie
---
Recommended Beer, Wine & Spirits by Groupon Customers
---
WineStyles' inspiration for its wine-tasting parties began, of all places, at a backyard barbecue. Some friends at the barbecue found themselves with too many bottles of wine. As an experiment, they decided to taste the wines blindly, so as not to be influenced by price or packaging. This impromptu tasting became the template for WineStyles, a boutique designed to help you choose a wine simply by taste. That is, wines here aren't categorized by varietal or region, but instead by one of eight taste profiles: crisp, silky, rich, and bubbly for whites; fruity, mellow, bold, and nectar for reds. However, patrons interested in knowing more about their selected bottle can still do so—each bottle comes with a description of its characteristics and suggested food pairings.
Those looking to learn even more about wines can attend one of WineStyles' weekly tastings or discovery classes. During these events, certified specialists explore everything from the history of different varietals to current trends in wine drinking, such as which wine goes best with texting. Different levels of wine-club membership give participants two to three bottles a month (each selected by a Masters Wine Panel), invitations to private tastings, and discounts toward additional purchases.
10625 N Tatum Blvd., Suite D142
Phoenix
Arizona
US
480-922-4771
WineStyles Belmont's Dionysian staffers dazzle palates with a globe-spanning array of world-class wines served at stylish private tasting events. Customers can select 14 lucky friends aged 21 and older to join them for the two-hour tasting, which can add glamour to holiday parties, casual comfort to corporate get-togethers, or refinement to rugby-match after-parties. At each tasting, guests mingle in cask-filled crannies of the elegant Belmont shop as they sample six unique, complex vinos. Knowledgeable staffers highlight each wine's subtle notes and flavors, and answer questions about origin, grape varietals, and which wines pair best with cotton candy. Between tastings, guests can cleanse palates and sate appetites with nibbles of fine cheeses and crackers.
10625 N Tatum Blvd., D142
Phoenix
Arizona
US
480-922-4771
Wine connoisseurs keep the shelves of WineStyles stocked with 100 to 150 vintages, many of which are rare or exclusive to WineStyles. Culled from large and small vineyards around the globe, the bottles are all labeled with their unique flavor profile so visitors can ready their taste buds accordingly. Amid the cellar's Old-World ambiance, connoisseurs pair visitors with wines to suits their tastes and help them customize gift baskets and print their own labels. The winery also hosts tastings and live music on some weekends.
For the WineStyles Wine Club, the chief taster selects two vintages each month. The winery staff then mails them to members' homes accompanied by the taster's notes, which describe the wine's region of origin and what the wine would sound like if it were a saxophone solo.
10625 N Tatum Blvd., D142
Phoenix
Arizona
US
Fledgling wine lovers and wine stalkers who have loved wine only from a distance through high-powered wineoculars can find out exactly why they love it with today's Groupon. For $60, you get three months of Wine Club membership at the WineStyles at 1051 Bruce B. Downs Blvd. in Wesley Chapel (a $105 value). Those months will be February, March, and April of 2010.
10625 N Tatum Blvd., D142
Phoenix
Arizona
US
Modeled after an Old World wine cellar, WineStyles's shelves are lined with rare bottles accrued by its staff of in-house experts hailing from quality vineyards across the globe. The shop's bounty includes handcrafted gift boxes and baskets and merchandise, such as guidebooks for translating secret codes etched in cork. Along with retailing wine and imbibing gear, WineStyles's crew grants guests the opportunity to sample new pours at frequent events and two-hour tastings three nights a week. For dedicated aficionados, the chief wine taster chooses two bottles to send to wine-club members along with tasting notes that detail their origins, a winery description, and suggested food pairings.
10625 N Tatum Blvd., D142
Phoenix
Arizona
US
Your Taste Club membership will include:
10625 N Tatum Blvd., D142
Phoenix
Arizona
US
---