Things to Do in Port Royal
---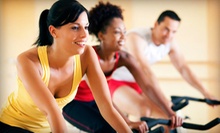 Certified instructors help students of all ages and abilities reach their fitness goals with Spinner Blade bikes in intense spinning classes
---
Recommended Things to Do by Groupon Customers
---
In 2012, Park Plaza Cinema made the conversion from reel to digital projectors, which WTOC chronicled locally. "It's a sad day. It's a historical day," Lucie Mann, who owns the theater with her husband, Larry, told WTOC. The digital conversion has not been the only upgrade at Park Plaza. The new Parlez-Vous Lounge and Ciné-Café invites guests to relax on its cushy benches or barstools for housemade ice cream or gourmet pizza or wings. Select beers and wines are also available. Along with its regular rotation of Hollywood blockbusters, family films, and arthouse cinema, the theater also organizes movie clubs and hosts a weekly movie-discussion group with a film critic.
33 Office Park Rd.
Hilton Head
South Carolina
843-715-0479
Laid out by golf course architect Tommy Fazio, The Golf Club at Hilton Head Lakes effortlessly weaves through the natural fabric of the land's lakes and wetlands. More than 7,300 yards, the course challenges golfers of all ilk to navigate around curvilinear greens, chip past strategically placed bunkers, and avoid raccoons playing freeze tag. Copious fairways and five sets of tees also call for mindful decision-making, planning, and ingenuity. The club rounds out its golfing experience with a 36-acre training facility boasting target greens, bunkers, and practice greens, as well as a golf shop and café.
356 Lakeside Blvd.
Hardeeville
South Carolina
843-208-5353
Cleaved through thickets of towering oaks along the Rose Hill Plantation, Rose Hill Golf Club's 18-hole course presents 6,961 yards of challenging fairways and greens. Populated by Spanish moss-swaddled trees, multiple ponds, and vibrant wildlife, the course's low country scenery and considerable difficulty—the Temptation tees boast a 74.1 course rating—form a layout worthy of grandiose nicknames. Each of the course's five tee options boasts an evocative name that suggests the tees' unique challenges; the tips are referred to as "Temptation," a nod to the Siren-like lure of playing a difficult course from its most harrowing tee placement, while the second-toughest tees' moniker is "Silver Moon," referring to the fact that those tees only appear at night.
To prepare for their round, golfers can warm up swings at the all-grass driving range or two practice holes, or let their nine-irons load up on muscle-building protein with a hot dog from the on-site grill.
Course at a Glance:
18-hole course
Length of 6,961 yards from the farthest tees
Course rating of 74.1 from the farthest tees
Slope rating of 139 from the farthest tees
Five tee options
4 Clubhouse Dr.
Bluffton
South Carolina
843-757-9030
YogiVeda founder Carrie Wandall, who studied yoga and Ayurvedic therapy as a child, creates a community where students can plumb Eastern and Western traditions to treat the mind and body. During sessions in the signature yoga style Carrie created, Nataraja Vinyasa, instructors incorporate moments of meditation into a dynamic sequence of physically challenging postures. Outside of the practice room, the studio's staff also promotes holistic health by proffering alternative treatment options, such as reiki energy therapy and soothing aromatherapy with essential oils harvested from beloved teddy bears.
163 Bluffton Rd., Suite B
Bluffton
South Carolina
843-384-0283
Designed by 25-time PGA Tour tournament winner Davis Love III, Eagle's Pointe Golf Club's 18-hole, 6,738-yard course unfurls an emerald map of kempt fairways sculpted through oaks and pines and kissed by native wetlands. Throughout the course, tree-lined fairways criss-cross lowland water hazards to form an intermediately long layout where off-kilter swings may result in lost balls and winded golf carts. Sporting the boldly contoured greens that have become Davis Love III's calling card, the course places a high premium on pinpoint approaches that leave manageable two-putts. To prepare for rounds, players can warm up their swings at the driving range, where grass hitting areas emulate course conditions alongside artificial mats that wait eternally for the stinging rip of a divot to validate their claim to authentic existence.
Course at a Glance
18-hole, par-71 course designed by Davis Love III
Length of 6,738 yards from the farthest tees
Course rating of 73.1 from the farthest tees
Slope rating of 136 from the farthest tees
Four tee options available
Link to scorecard
1 Eagle's Point Dr.
Bluffton
South Carolina
843-757-5900
Designed by golf legend Arnold Palmer, Crescent Pointe Golf Club's 18-hole, 6,773-yard course takes golfers on a journey through the shadows of skyscraping pines and oaks amid the unfurled petals of blooming magnolias. Generous fairways provide ample runways for flush drives and golf-obsessed extra terrestrials, and the course compensates with dramatically sloped, elevated greens with enough subtle breaks to give any smooth-putting golflete a case of the yips. The par 71 presents birdie opportunities at all three of its par 5's, though each one will challenge club-flailing composure with forced-carry water hazards. Expansive beach bunkers threaten to ensnare wayward balls on several holes, where conservative players would be wise to simply wedge the ball back into the fairway and pay a one-stroke fealty to their despotic sand-trap rakes. To prepare for rounds, divoteers can straighten out unsightly slices and snap-hooks at the club's driving range or sign up for a lesson with PGA professional Stephen Neville.
Course at a Glance:
18-hole, par 71 course designed by golf legend Arnold Palmer

Length of 6,773 yards from the farthest tees

Three tee options available

Link to scorecard
1 Cresent Pointe
Bluffton
South Carolina
843-706-2600
---