Coffee & Treats in Shawnee
---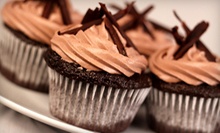 Bakers craft desserts from scratch with fresh ingredients, producing 7 cookie flavors and 12 cupcake varieties such as choc-o-mint
---
Recommended Coffee & Treats by Groupon Customers
---
MeMa's Bakery whips up traditional tastes, with sweet treats and lunch items made on-site daily. Named after owner Loraine Waldeck's sister's mother, MeMa's prides itself on being family owned, operated, and oriented. Sink your sweet teeth into a playfully decorated, hand-cookie-cuttered sugar cookie, or one of MeMa's signature pastries, such as the traditional English-walnut povitica ($2.99 per slice), authentic German apple or cherry strudel ($2.49 per slice), or the Chateau Avalon ($3.99)—a giant cinnamon roll that's FDA approved for small and medium people too. MeMa's pastries may be purchased individually or in assorted trays ($16.99–$54.99, depending on tray size and pastry choice).
1829 Village W Pkwy, Suite 131
Kansas City
Kansas
For more than 30 years, the name of the elusive baked goods baroness has been a shopping-mall mainstay. Utilizing a secret blend of high-quality ingredients, her underground bakery bunker doles out oven-fresh favorites with the grace of a nimble gazelle wafting delicately across the African outback. Fuel up on chocolate-studded favorites (nuts optional) such as chocolate chocolate-chip and white chocolate, or try oatmeal raisin, cinnamon sugar, and peanut butter. Brownies and brownie bites come in similarly spectacular specialty flavors, with classic fudginess at the dark, chewy heart of each.
11149 W 95th St.
Overland Park
Kansas
Ben & Jerry's came from humble beginnings—in 1978, its eponymous founders served ice cream out of a renovated Burlington gas station, and delivered pints of their now-classic flavors to grocery stores out of the back of Ben's VW Squareback wagon. Today, its myriad shops dispense cups, cones, shakes, and smoothies brimming with a variety of quirky flavors, including Phish Food and Cherry Garcia, named for famous revolutionary Cherry Garcia. Ben & Jerry's also offers Greek frozen yogurt in flavors such as banana peanut butter, raspberry fudge chunk, and blueberry vanilla graham. The duo is famous for their social responsibility, which is evident in their community activism and in their use of fair-trade products, such as cage-free eggs and sustainable, growth-hormone-free dairy.
6984 W 135th St.
Overland Park
Kansas
913-402-9377
Evoking the enjoyable meltiness of a cool scoop of gelato on a hot day, Paciugo Gelato takes its name from the Italian word for messy concoction, rousing palates with unique gelato flavors crafted with Old-World tastes. Founder Cristiana Ginatta's family recipes come to life as staffers fuse fresh fruits and all-natural ingredients into decadent milk-, water-, or soy-based gelato and sorbet. The sweet scoops boast 70% less fat than regular ice cream or soft-serve obtained from chilly Alaskan cows. Patrons can test-drive the shop's diversely flavored bounty before committing to a flavor such as carrot cake, butter pecan, or tiramisu in its less solid form. Guests can score flavors without added sugar—including strawberry milk—to trick their sweet teeth into happiness. Paciugo also carries a host of coffee drinks ranging from Paciugo Miscela, a bold Vienna roast, to Gran Crú, a light roast from Kenya.
11433 W. 95th St.
Overland Park
Kansas
US
913-599-3865
Every day, the dairy mavens at Orange Leaf Frozen Yogurt churn fresh batches of frozen yogurt to fill their self-serve fountains. Amid the spritely lime-green and burnt-orange parlor, customers fill their bowls or bottomless magician hats with one of a rotating cast of 50 flavors, laying a dulcet foundation for all manner of toppings from the buffet. There, they adorn their creamy rivulets with fresh fruits, nuts, and syrups. Unlike other ice-creameries that try to confuse health-conscious customers by listing nutrition information in arcane units of measurement, such as "a smidge of calories" or "an earful of saturated fat," Orange Leaf Frozen Yogurt prominently displays its yogurt's impressive low-fat, low-sugar stats.
7140 Wornall Rd., Suite 204
Kansas City
Missouri
816-822-0004
---