Top Product Reviews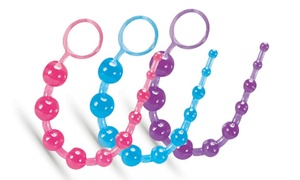 It really gets the job done! I really enjoy the different size beads, they really let you let loose and figure out just what kind of mood you're in. But it truly is the occasional Sean William Scott 'Road Trip' moment that really makes these beads worth the $16.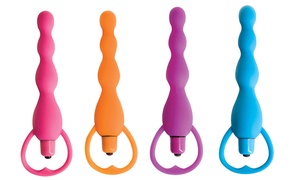 Absolutely love it 5 stars all day loved when my gf used it on the silicone gives it a easy access feature and vibration works good can't get enough of it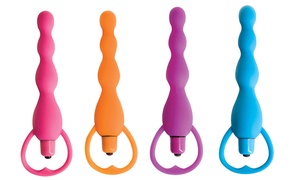 These are great for beginners. The vibration is perfect although the button is somewhat an inconvenient spot at the end of the beads so when you insert it's hard not to activate the vibration. They do fall out if you're moving around at all.
Shop Adult Toys on Groupon
Groupon's mission is to make life better by helping you find new surprises—and that includes shaking things up in the bedroom. An ever-rotating inventory of adult toys makes shopping for accessories for your sex life easy, leaving you and your partner free to feel liberated. Best of all, Groupon sends your new playthings in discreet packaging. Before perusing the inventory, it may help to discover what suits your personal tastes with our buying guides for
men's
and
women's
sex toys.
Adult Toys for Any Number of Adults
Sex should be fun, no matter whether you're with a partner or by yourself. For
women
, vibrators and dongs increase physical pleasure in either setting. Not sure which model of Magic Wand is right for you?
We have some recommendations
.
Men's toys
, meanwhile, include strokers in various shapes and C-rings and enlarger pumps for enhancements of all sorts. Both sexes can make use of
toys designed especially for couples
, including everything from mutual vibrators to wedge pillows. And if you and your partner have been curious about anal play,
read this SFW beginner's guide first
and then explore
anal toys
such as beads and plugs.
Foreplay Essentials
For couples, foreplay is half the fun.
Intimate apparel
keeps things flirty with lingerie sets such as crotchless panties, men's thongs, and sexy costumes, while
bondage and fetish gear
lets adventurous couples keep each other on their toes with sex swings, body restraints, and blindfolds. If you're in need of a little inspiration—or just looking for something new to do—
adult games
make for playful aids that turn finding new positions into an extra-friendly competition, while
adult books
ignite your imagination with erotic novels or provide tips and tricks.
Enhancing the Experience
Groupon also carries plenty of items to make sex more comfortable. In addition to
condoms and contraceptives
, a fully stocked inventory of
lubricants and sexual enhancers
covers potential needs with items such as numbing agents and delay cream. (If you don't know the difference between silicone-based and water-based lube,
consider this required reading
.) And since
wellness
is a key part of sexual wellness, you'll want to make sure you have supplies for
cleaning and taking care of your sex toys
. Your needs may even include male enhancement or testosterone boosts, in which case our
sexual supplements
are likely to have you covered.