Restaurants in Floral Park
---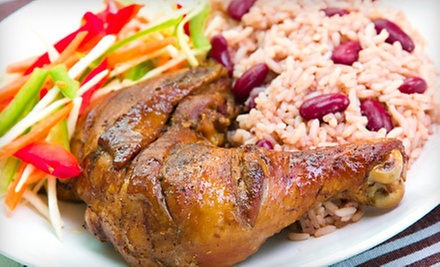 ---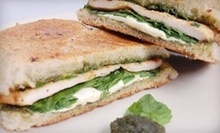 Lamb gyro platters, paninis & tandoori chicken pitas quiet growling tummies as natural agave smoothies satisfy fruit thirsts
Use Saturday 11:00am - 6:00pm
---
Recommended Restaurants by Groupon Customers
---
At Kiosk, Chef Mounir Najd draws on his childhood in Casablanca to create traditional Moroccan food featuring organic produce and fine cuts of meat. However, the food is not the only thing that makes the restaurant authentically Moroccan. With hookahs billowing smoke late into the night, hand-painted murals by artist David Ort, and belly dancers weaving around the café, Kiosk celebrates the culture of Morocco every day. The menu starts with traditional appetizers such as baba ganoush and tabouleh, followed by a main course of kebabs, kofta, and couscous. Hookahs come in many forms such as single-nozzle pipes, and the tobacco selection often includes fresh fruit to feed the genie trapped in the bottom. Live music fills Kiosk regularly, with acts such as Brazilian jazz quartets or traditional Moroccan tunes, and bartenders stir mixed drinks every evening.
80 E 116th St.
New York
New York
212-348-9010
Jerome Chang, the mastermind behind the much-lauded DessertTruck, gave his desserts a grounded home at Cathcart & Reddy, a café on the Lower East Side that sells many of the truck's wares while expanding its purview. Run by Chang and two pastry chefs, all credited in their New York magazine listing as Le Cirque school alumni, the truck was nominated for two Vendy Awards and received heavy attention in a New York Times feature on dessert trucks for gourmet sweets that include chocolate bread pudding, vanilla crème brûlée, and french macaroons. The café also sells pressed sandwiches with mellifluous fillings such as goat cheese with caramelized almonds, thyme, and apricot jam, or domestic serrano ham with manchego, roasted garlic, and pine nuts.
When not slinging sweets behind the counter, staffers can be found in the kitchen, baking new batches of desserts or hosting workshops for aspiring chefs. Scheduled every few days throughout each month, the classes teach patrons kitchen secrets such as how to craft perfect soufflés and macaroons or gauge a cook's feelings by the color of his chef's hat.
6 Clinton St.
Manhattan
New York
212-228-0701
Goldenrod walls reflect into Pyramida's brightly lit deli case, which brims with cool trays of Mediterranean dishes. According to New York magazine, the shop's falafel and chicken shwarma "rival the finest in the city, thanks to an obsessive devotion to fresh, homemade ingredients." Within the eatery, fluffy pita pockets, colorful scoops of saffron rice, and sweet-potato fries soak up sauce, drawing sighs of relief from novelists finishing stories on napkins.
1402 2nd Avenue
New York
New York
212-472-5855
The culinary team at SubsConscious pushes the boundaries of the classic sandwich—their philly-cheesesteak subs, for example, come in 11 different styles. The Double Trouble pairs the grilled steak with turkey and russian dressing, whereas the Nuclear comes brimming with jalapeños and hot sauce for those who like spicy meals or need to unstick their tongues from frozen poles. The team also stuffs 10-inch subs with classic cuban-sandwich fixings or simple deli meats ranging from genoa salami to smoked turkey; these self-contained eats also come in burrito, panini, and bagel form. The shop's build-your-own salad bar, meanwhile, overflows with extras such as artichoke hearts, beets, and baby shrimp.
1625 Amsterdam Ave.
New York
New York
Lady Liberty, surrounded by palm trees. That's what visitors gaze upon in BKNY Thai Restaurant's dining room, where the lush plants bookend a wall mural of everyone's favorite robed giant holding an ice cream cone. It's also a neat summation of the restaurant's animating concept, which is to meld the East Coast with the subtropical. For instance, chefs drizzle New York strip steak with tamarind sauces, and they toss jumbo shrimp in peppercorn sauce. The eatery appeases Thai purists, too, with traditional dishes such as spicy soups and red curries.
47-11 Francis Lewis Boulevard
Bayside
NY
US
7182811900
---