Knik-Fairview, AK Health and Fitness
---
Massage therapists help relieve musculoskeletal pain during one-hour deep-tissue or Swedish massage
---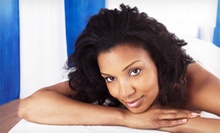 One-hour massages with licensed massage therapists, perfect to cure those aches and pains from last minute trips and back-to-school woes
---
Recommended Health & Fitness by Groupon Customers
---
Led by Doctor of Chiropractic William Ross—a former secondary teacher—Excellence in Health's team of licensed massage therapists combine their expertise to target chronic pain, stress, and wellness issues with a comprehensive range of drug-free treatments. They also outfit the office with advanced rehab equipment, such as mechanical-intermittent traction and flexion distraction tables that relieve the discomfort of herniated discs or sore necks resulting from constantly looking upwards to avoid falling anvils.
2008 E Northern Lights Blvd.
Anchorage
Alaska
907-562-6325
Kristen and Seth Wood first experienced the therapeutic benefits of acupuncture as patients, although it wasn't long before they established expertise behind the fine, sterile needles. After studying the medical art form, they opened their own studio, Snow Blossom Acupuncture, in order to help share acupuncture's empowering effects. Now joined by a naturopathic physician, a certified rolfer, and a licensed massage therapist, Kristen and Seth are able to increase their clients' levels of well-being holistically through a blend of Chinese medicine and Western therapies.
Community-acupuncture sessions allow patients to remain fully clothed and relax in a group-treatment setting, although private treatment rooms are also available for more in-depth sessions. Cupping, moxibustion heat therapy, and Chinese herbs rely on historical techniques for relieving pain and bolstering constitutions. For more spa-like sessions, the therapists can also use classic Swedish massage to soothe overstressed muscles and aromatherapy oils to revitalize fading scratch 'n' sniff stickers.
615 E 82nd Ave.
Anchorage
Illinois
The instructors at Alaska Kayak Academy share their love for sea kayaking by training and leading adventures in Alaska's rivers and coastal waters. Scheduled year-round, classes range from basic paddling instruction to deep-water rescue techniques. Guided trips cater to all levels of paddlers, with day trips along salmon runs and through the glacial ice of Prince William Sound. Rentals equip paddlers for independent exploration, refining skills, and humming quietly to themselves in peace. Alaska Kayak Academy also encompasses a store, where staff advise on gear such as new and used kayaks and the trendiest way to don a life jacket.
2201 E Palmer-Wasilla Hwy.
Wasilla
Alaska
907-746-6600
While growing up in some of America's coldest, northernmost states—Wisconsin and Minnesota—David longed to live somewhere even wilder once he became an adult. He looked northward, setting his sights on Alaska, imagining himself as a small-town doctor or, better yet, a dentist. These days, he's known as Dr. David Paape, founder of a local practice called Northstar Dental and a global nonprofit known as Compassionate Dental Care International. Beyond moving to Alaska, tooth tending is David's dream. Between fishing trips in the Alaskan wilderness and volunteer work in developing countries, he cares for the community's smiles with precision and gentleness. Northstar Dental's services range from preventive exams, digital x-rays, and cleanings to repair work such as bridges and implants. To enhance smiles' beauty, David also performs teeth-whitening treatments, which make enamel brighter than a supernova with a PhD.
1000 E Dimond Blvd., Suite 200
Anchorage
Alaska
907-929-1728
Dr. F. Todd Wortham—or "Dr. T," as his patients call him—is so well trained in implantology, he finds installing replacement teeth to be fun. The dentist, who has more than 500 hours of continuing education in advanced dental techniques under his belt, has learned to be one with his work to such a degree that even the challenging procedures have become a joy.
Together with longtime colleague Dr. Rachel M. Deininger, Dr. T takes time to get to know each patient who comes through the door or scratches through the drywall. In addition to installing dental implants, the doctors treat periodontal disease, whiten teeth with custom bleaching trays, and fit patients for dentures.
2601 Boniface Pkwy., Suite 4
Anchorage
Alaska
907-280-9585
Curves has established nearly 10,000 gyms for women in more than 85 countries, with 4 million members worldwide. Three Anchorage locations invite ladies of all fitness levels to the training circuit. Circuit trainees gather in a circle comprised of 13 resistance machines and 13 recovery stations. During the course of a 30-minute workout, they alternate between machines that work two opposing muscle groups with a single motion and recovery stations where they run, dance, or swagger in place to maintain heart rates. Ladies carry Curves Smart chips that feed their personal fitness info into the training machines. A green light on the chip indicates sufficient workout intensity, which rises as one's strength increases.
Curves now offers the 90-day Curves Complete program, which pairs diet and exercise with the motivation of peers and trainers.
6311 DeBarr Rd.
Anchorage
Alaska
907-333-2879
---