Widely believed to be the first vegetarian restaurant in New York City, Vegetarian Restaurant No. 1 opened its doors in 1895 on West 23rd Street. The limited opening-night menu included dishes that by today's standards would have been considered extremely simple, even boring: fruit soup, field salad with mayonnaise dressing, spaghetti with tomato sauce, and dates, figs, grapes, or rice pudding for dessert. Despite its humble beginnings, the vegetarian scene in Manhattan was born, and more than a century later, the city is ripe with exciting, exotic, guilt-free options for both vegetarians and vegans.
#1
Chelsea: Hearty Vegan Italian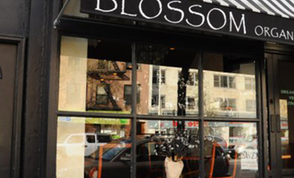 New York Daily News reporter Irene Sax had her suspicions when it came to Blossom's meat- and- dairy-free interpretation of Italian cuisine, but was pleased to discover "well-seasoned and surprisingly lusty food". Egg-less pastas, pan-seared seitan, and organic, local produce yield dishes that are both hearty and flavorful.
#2
Greenwich Village: Vegan Soul Food
What is soul food without meat? Chefs emulate favorites such as meatballs, fried shrimp, and jerk chicken using their own blend of soy proteins, tofu, and crisp vegetables. Sauces and spices from Asian and Caribbean cuisines help lend a kick to dishes such as the vegan Cajun shrimp or the broccoli and sweet potato tempura.
#3
Chelsea: Superior Spaghetti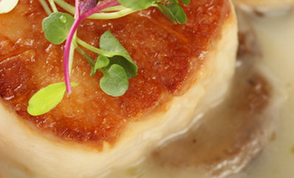 With James Beard-winning chef Scott Conant at the helm, you can expect both expertly done basics––a New York Times lauded spaghetti, for example––and unique dishes such as rosemary-braised lentils and creamy polenta with a fricassee of truffled mushrooms. The menu pairs nicely with 3,000 Italian, French, and international vintages.
#4
East Village: Liquid Lunches
The juices at Liqueteria resemble a carton of grocery store OJ about as much as a Rolls Royce resembles a rickshaw. By using the Norwalk cold-press method, staff is able to extract 3 to 5 times more vitamins than a conventional juicer would. Juice cleanses are also available to help detox and energize the body.
#5
Fort Greene: Vegetarian and Vegan Mediterranean Fare
The flavors of the Mediterranean infuse small plates such as fried green olives or herb goat cheese croquettes. Slices of grilled pita can be dunked into dips ranging from hummus to spicy feta whipped with lemon and red pepper. There's plenty of non-vegetarian options too, making it a great place to dine in mixed company.
#6
Upper West Side: Vegetarian Bar Snacks
You can find more than an extensive list of single-malt scotches and bar peanuts inside the warmly lit Dive 75. Meatless munchies include southern fried pickles and spicy-sweet sweet potato chips tossed with black pepper, cayenne, and brown sugar. Still hungry? The main menu includes veggie dogs, burgers, and even a vegetarian reuben.
#7
Clinton: The Better-Than-Meat Veggie Burger
The veggie burger has long eluded many chefs who can't give their patties the stickiness needed for a good hearty chomp. The chefs at 5 Napkin Burger are an exception: eggs and panko crumbs bind together a savory mixture of sunflower seeds, wheatberry, brown rice, and mushrooms that The New York Times praised for its "loamy richness".
#9
East Village: Customizable Curries and Rice Dishes
Chefs use influences from Indian, Portuguese, Dutch, and Malay cuisines, to create a menu of savory, spicy dishes. Curries blend together coconut milk and lentils or pickled eggplant. Don't miss the house-specialty aappa ("hoppers"): thin, bowl-shaped pancakes topped with chilies, spices, and a choice of sautéed onions or fresh coconut.
#10
East Village: Best Vegetables
Instead of focusing on meat substitutes, the chefs at Dirt Candy draw inspiration from the flavors of fruits and vegetables. Unique options such as buttermilk-battered cauliflower with waffles and horseradish or stone ground grits with pickled shiitakes help explain why this place was named "Best Vegetarian Restaurant in NYC" by The Village Voice.