Beauty & Spas in Palm Beach Gardens
---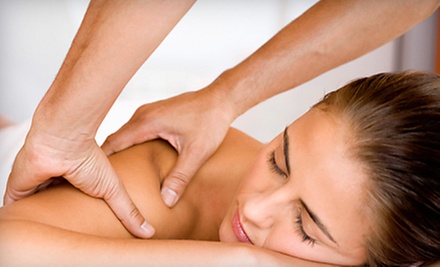 ---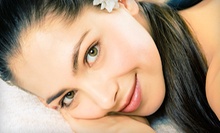 Use Saturday 2:00pm - 6:00pm
---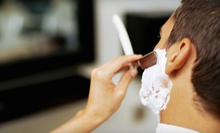 While a red, white, and blue pole spins outside, barbers lather up whiskers and cut hair into traditional styles
Use Today 9:00am - 6:00pm
---
Recommended Beauty & Spas by Groupon Customers
---
Elena Zabala first became interested in beauty as a child back in her native land of Cuba, where she took careful notice of how people groomed themselves. By 1980, she'd followed that childhood passion to a full-blown profession, attaining a certification in cosmetology and traveling the world to learn other cultures' beautifying techniques.
Since 1993, Zabala has owned and operated EZ Skin Care and Wellness Center, where she oversees the skin treatments and salon and spa services she learned throughout her career. From waxing and hair coloring to microdermabrasion and HydraFacials, there is enough variety of treatments to totally transform clients before big events such as weddings or wallaby-smuggling stings. To help clients maintain the results of their treatments, Zabala stocks her center with skincare products, including a vitamin-rich cream of her own design called Noche. She works alongside her partner, Dr. Diosenis Hernandez, MD, a graduate from the University of Havana and University of Matanzas. Having previously worked as a general practitioner and ER specialist in her native Cuba, she continues to pursue her full U.S. medical license while treating clients to a variety of massage therapies including rehabilitative therapy, hydrotherapy, shiatsu, reflexology, Swedish, sport, and PNF stretching.
5612 South Dixie Highway
West Palm Beach
Florida
561-588-7234
The Skin Science Institute's expert physicians and technicians diminish epidermal blemishes all across the body with an array of skincare services. The experts freshen facescapes with facials, peels, and microdermabrasion, and indulge clients with sundry pampering services, including hot-stone massages, bridal beauty packages, and pretending to be their significant other at high-school reunions. Specializing in laser technology and advanced medical skincare, Skin Science Institute's staff sculpts sleek new physiques with cold-laser technology and revivifies aging faces with a gauntlet of blemish-fighting lasers to diminish the appearance of cellulite, wrinkles, and acne.
537 US Highway 1
North Palm Beach
Florida
561-201-6398
Fluctuations in stress levels and health often go often hand in hand, and addressing one without the other can mask but not eliminate problems. Knowing this, the staff of licensed massage therapists and aestheticians at Absolute Wellness Spa works to cultivate a tranquil environment in which relaxing treatments address both bodily and mental health at the same time. Those treatments, which include massages, healing acupuncture, facials, and mud wraps, draw on Western medical practices and Eastern philosophy to better approach wellness issues from a variety of angles. In the studio, quiet music plays to relax patrons, and fountains burble softly like a scuba diver trying to tell a secret.
330 Clematis Street, Suite 114
West Palm Beach
Florida
561-833-9226
Cosmetic-liposuction expert David Salvador, MD, has performed more than 2,000 successful Smart Lipo Ultra treatments, and teaches other medical professionals how to use the system's laser and ultrasonic energy to sculpt common problem areas. Dr. Salvador leads the highly trained team at New Radiance of Palm Beach—which includes a physician's assistant and medical aestheticians—in both minimally invasive and noninvasive techniques that address everything from stubborn fat deposits and wrinkles to spider veins and unwanted hair with the latest technology.
The physician-directed crew performs five different procedures to address cellulite and contour bodies. They also employ a variety of dermal fillers and laser-based devices to target wrinkles and stretch marks, resulting in firmer skin that can't be obtained through diet, exercise, or daily applications of starch.
[David Salvador, ME 69789]
11701 Lake Victoria Gardens Ave., Suite 1105
Palm Beach Gardens
Florida
561-776-0116
After more than two decades of practicing surgery in the area, Dr. Luis Viñas—a board-certified plastic surgeon—decided to open L.A. Viñas Plastic Surgery & Med Spa in 2009. Here, he performs and supervises cosmetic and reconstructive surgeries, as well as preventative procedures alongside a well-trained staff of medical assistants, aestheticians, and a physician-assistant laser specialist. The med spa specializes in anti-aging treatments, including injectables, chemical peels, and laser treatments that resurface skin to minimize wrinkles, age spots, and scarring.
The center's massage therapists specialize in postoperative lymphatic drainage techniques, which help reduce inflammation, prevent scarring, and speed healing by enhancing the system's ability to filter out toxins hiding behind cardboard replicas of the lungs. In addition to his surgical duties, Dr. Viñas partnered with his daughter to create a skincare line—V Therapeutic—that targets acne without stripping away moisture.
550 S Quadrille Blvd.
West Palm Beach
Florida
561-655-3305
---