Beauty & Spas in Vaughan
---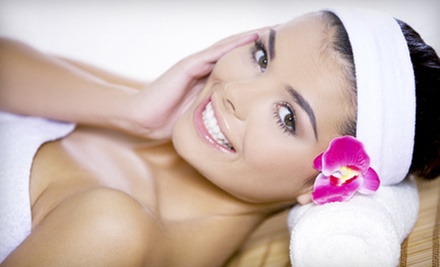 ---
Recommended Beauty & Spas by Groupon Customers
---
The Sarum Room, founded by registered nurse Chantal Ward, employs state-of-the-art laser technology to dramatically reduce body-hair growth in its patients. Using the virtually pain-free Soprano XL laser hair-removal system, The Sarum Room's staff of skilled hair hunters will remove a chinchilla-colony's worth of body hair from select epidermal regions. The laser—actually just pulsating light—heats up melanin contained within the hair, stunting hair growth. With the three laser hair-removal treatments offered with this deal, you'll be well on your way to wearing a sleeveless tuxedo without fear of underarm hair-prompted mocking, or you can take to the beach with a follicle-foiled bikini line, allowing for all eyes to only be on your totally sweet facial tattoo.
160 Main St.
Markham
Ontario
The secret ingredient at Minus 417 Dead Sea Spa is Dead Sea salt, which is infused into many of the spa's skin, body, and nail treatments. Nails soak in the mineral-rich salt during a spa mani-pedi. Bodies benefit from Dead Sea salt's circulation-boosting abilities during a mud mask and a warming massage, where the much-touted element also helps firm, soften, and rejuvenate the skin.
Of course, the spa's experienced aestheticians also rely on other ingredients, including Thai herbs, vitamin A, and Jeunesse Advanced Skin Care products. Clients can choose from more than 20 types of facial treatments or enjoy a massage from a certified therapist capable of harnessing the powers of essential oils, honey, and green tea. The skin experts at Minus 417 are also well versed in a range of advanced aesthetic treatments, including LED light therapy that erases sun damage and IPL hair removal that rids bodies of unwanted hair and freshly sprouted grass.
300 W Beaver Creek Road
Richmond Hill
Ontario
905-771-5000
Named for the Japanese word for "cure," Iyashi Bedrock Spa takes an innovative approach to healing by beckoning visitors into its all-natural Japanese ganbanyoku rock bathing suites. Since its inception, Iyashi has been featured in numerous media outlets including E! Spa Trend Alert, which mentions Iyashi is "the latest Spa secret that has athletes and celebrities rolling around on a bed of rocks." New Beauty Magazine also named it one of the top five unique spas in the world for its more than 20 beds of imported black silica rock that boast detoxifying and relaxing effects. Hot water runs beneath these slabs, heating them to approximately 44 degrees Celsius in a room held at 60 per cent humidity to create an atmosphere reminiscent of a rainforest or the inside of a yogi's mouth. Clients place a towel down and lie for 20 minutes at a time, basking in the sounds of soothing music before stepping out into the cool-down room. This process is repeated for an hour as the stones suffuse bodies with far-infrared rays and negative ions that can help to loosen tight muscles, burn calories, improve circulation, and boost the immune system. The 16 student yoga classes have been voted one of the top 10 yoga studios in Toronto by blogTO and LexiYoga.
2662 Yonge St.
Toronto
Ontario
416-488-7625
"I now use many of the noninvasive medical services I offer at my clinics to fight the aging process. I have personally never felt or looked better and I am now in my forties," says Eleanor Welsh, founder of Skin Vitality Medical Clinic. Using Elos laser and radio frequency technology, her team of registered nurses and registered practical nurses is able to reshape bodies, erase body hair, and tighten skin with the push of a button. Their skill with beauty injectables comes from extensive training from Allergan and other pharmaceutical companies, giving them the deft ability to leave clients' faces more youthful than a rosebud in a sippy cup. For more dramatic results, Dr. Conor B. Turley performs cosmetic surgeries such as tucks, augmentations, and lifts.
8865 Yonge St.
Richmond Hill
Ontario
905-763-2001
For more than a decade, the highly trained technicians at Vaughan Laser & Anti-Aging Clinic have performed a range of advanced medical and aesthetic treatments. Dermal fillers, chemical peels, and Thermage treatments help technicians erase sun spots, fill wrinkles, and tighten skin. These nonsurgical therapies aim to restore youthful complexions in the event that clients cannot find the fountain of youth. The staff also employs lasers to reduce the appearance of cellulite and hyperpigmentation.
4600 Highway 7, Suite 110
Vaughan
Ontario
905-850-2878
Mee Skin Care's modern ambiance stems from its bright, geometric decor and its advanced anti-aging technologies. Two-storey glass windows flood the lobby with tidal waves of light. Inside private treatment rooms, aestheticians slow or reverse signs of aging or skin damage with laser light and botanical products by Babor and Swiss Line. In addition to warding off physical wear and tear, beauty pros also alleviate the hectic pace of life. During massages and facials, specialists lavish skin and muscles with nonstop attention, kneading away knots and renewing skin health.
4-10650 Leslie St.
Richmond Hill
Ontario
905-787-1633
---