Things to Do in Victoria
---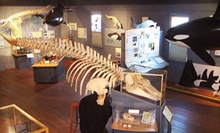 Beneath whale skeletons & family trees of local pods, patrons revel in haunting whale songs & videos of orcas bursting through surf
Use Today 3:00pm - 5:00pm
---
Recommended Things to Do by Groupon Customers
---
Nestled within a 150-foot floating vessel 5 metres below Victoria's Inner Harbour, Pacific Undersea Gardens sprawls with an interactive aquarium and dive-show theatre. More than 5,000 animals such as rock cod, red snapper, Pacific salmon, and wolf eels slink and swim through the facility's natural, protected environment, which guests can peek into from the dry side of numerous viewing windows. As critters flit about in a tidal pond, visitors of all ages gently interact with the sea creatures. In the vessel's spacious theatre area, divers shielded in masks equipped with communications gear chat with onlookers while swimming among sea stars, anemones, and a giant Pacific octopus affectionately named Armstrong. After the show, divers clear their schedules to meet with birthday partygoers, and friendly guides educate school groups and oversee activities such as knighting favourite teachers with a swordfish.
490 Belleville St.
Victoria
British Columbia
250-382-5717
After a trek down the Panama Canal, visitors stop for a brief sojourn under the Matterhorn before journeying on to the Eiffel Tower. This trip around the world comes courtesy of All Fun Recreation Park's miniature-golf course, whose 18 globally themed greens are littered with water traps and austerely dressed customs officials. Elsewhere, eight cages hurtle baseballs and softballs toward batters at 40–75 mph, and drivers accelerate across a 1,400-foot go-kart track's over and under bridge or hug the turns of a smaller oval track designed for parents and youngsters.
For more racing action, patrons can head over to Western Speedway each Saturday night in May–September for stock-car competitions on an oval track or drag strip. Westshore Motocross rents entry-level dirt bikes to riding and racing novices, and 75 RV and tenting sites give guests opportunities to yodel freely in nature. Guests can then practice licking techniques on the flower-filled patio at Mr. Tubbs Ice Cream Parlour and Family Fun Zone, or explore the Swap & Shop each Sunday, where vendors dispense copious household goods and collectibles.
2207 Millstream Rd.
Victoria
British Columbia
Canada
The Braefoot Community Association was created to enrich its community with sports and recreational activities. Each of their programs is designed to help kids develop social and physical skills while encouraging healthy lifestyle habits and instilling in them an eagerness to remain active instead of imitating plastic-molded mannequins. Kids aged 16 months to 12 years can undergo non-competitive instruction in roller hockey, soccer, basketball, baseball, and tennis, and owners of fancy feet can take pre-professional and children's level dance instruction with the Westcoast Academy of Performing Arts. During the summer, a slew of camps keep children occupied and involved, teaching kids kayaking or biking basics, or helping them hone their soccer or hockey skills. The organization's multi-use facility also has grounds for the Lakehill Soccer Association and the Saanich Lacrosse Association to play on and is working toward expanding their activities to include adult programs.
1359 McKenzie Ave.
Victoria
British Columbia
250-721-2244
As any triumphant team of athletes can tell you, winning is exhilarating. At Sportball, though, instructors focus on the quieter joys of athletics: improving motor skills and life skills. Their noncompetitive instruction—aimed at babies all the way up through tweens—covers eight popular sports, ranging from soccer and volleyball to hockey and golf. With age-appropriate, child-sized equipment, they help youth develop balance, strength, and coordination. They also nurture the self-confidence that will one day be needed on the soccer field where each grown kid will take the bar exam.
3289 Happy Valley Rd.
Victoria
British Columbia
---