Things to Do in Arlington
---
Things to Do Rewards Deals - Use Anytime
---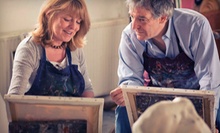 Art gallery where students learn painting and cartooning skills doubles as an event space for open-mic nights and singles' mixers
---
Recommended Things to Do by Groupon Customers
---
Among the Old Mill Adventure Park's 315 verdant acres sliced through by miles of gravel and tarmac roads, DirtFish Rally School's seasoned instructors impart their driving savvy upon pupils of all experience levels via dirt-lined rally courses of varying lengths. A pre-instructional driver's meeting in a classroom inside the 10,000-square-foot main building enables vehicular gurus to expound upon essential driving skills such as weight transfer, skid control, and how to stop Keanu Reeves from trying to stop the speeding car. Immune to inclement weather, DirtFish staff foils nature's attempts at forcing drivers to stay indoors with all-season lessons that wend along demanding routes in rain, sleet, and snow. DirtFish's meticulously maintained fleet of all-wheel-drive Subaru rally cars effortlessly hurtle along the high-speed slalom course and slide across the Skid Pad thanks to competition-ready features including Tein suspension, rally tires, and OMP safety equipment. Upon the course's completion, DirtFish staffers welcome guests back into the main building where men's and women's showers and locker rooms facilitate spruce-up sessions and a museum peppers brains with information nuggets pertaining to the art of rally.
7001 396th Dr. SE
Snoqualmie
Washington
As owner Kam Bradley told Seattle's King 5 News, "There's not a lot of limitations." She's referring to Absolute Air Park's indoor trampoline playground, where jumpers spring from floor to wall, spinning and flipping until gravity yells "uncle." To keep the park free of limitations, she and her husband added activities for kids, teens, and adults such as high-flying dodge-ball leagues as well as bouncy fitness classes. Recognizing how the trampolines made exercising fun, they offer trampoline aerobics, which incinerates calories with a variety of aerobic and fitness activities, as well as boot camps that incorporate interval and circuit training during 55-minute sessions. While the fitness is a plus, they know fun is the park's main draw, so they enhanced jumping possibilities with snowboards and bounce boards made specifically for trampolines, as well as party packages replete with personalized birthday cakes and extra-large pizzas.
18802 67th Ave. NE
Arlington
Washington
855-788-5867
Since 1962, owner and U.S. Coast Guard–licensed captain Terry Buzzard has gotten to know the San Juan Islands and surrounding miles of water pretty well. Having hauled mail for the Post Office, salvaged wrecks, assisted in oil spill cleanups, and ferried passengers throughout the San Juan Islands, he has built quite a resumé of seafaring. This relationship with water isn't so surprising considering he began boating at the age of 3 when he was allowed to pilot a single-horsepower boat by himself with his trained rescue dog, Rusty.
Regardless of the actual job he's performing, Terry is always drawn to whales. By 1978, this fascination lead him to chartering trips specifically for whale watching, especially toward the schools of orca that made the region their home. Looking back, he's pretty certain his boat was the only one in the area at the time dedicated to the thrill of witnessing some of the world's largest and most beautiful animals. Today, the waters are spotted with various boats filled with passengers snapping pictures of the great aquatic beasts and shouting ululations whenever one smacks its enormous tail against the water, takes a playful leap, or belts a Mariah Carey song.
Terry's boat, the 110-foot Island Caper, provides generous sightlines to all passengers via its spacious outdoor deck and ample indoor viewing areas, and is decked out with a 34-speaker sound system. In business for 50 years, Island Mariner Whale Watching also employs a seaplane to help spot whales and guide tours. With his chief navigator––a 5-year-old airedale terrier also named Rusty––Terry is right out there amid the excitement, ferrying whale watchers and sharing his life-long passion.
2621 S Harbor Loop Dr.
Bellingham
Washington
360-734-8866
Frustrated that their three youngsters spent their indoor playtime glued to video games and TV, Doug and Kasey Lupton founded Play Kitsap as an active, educational alternative. Their 8,000-square-foot facility entices kids aged 10 and younger with 14 activities, including a 21-foot-tall inflatable slide, a bouncy castle, a sports zone, and moon sand for sculpting. Elsewhere, a toddler area accommodates younger guests with age-appropriate activities, and art and Kindermusik classes stimulate children with engaging sessions of drawing or singing. All the while, parents can watch their youngsters play, surf the net with free WiFi, or savor a snack and drink at the café. Play Kitsap also offers five party packages, including an all-night soiree where up to 20 kids can stay up eating pizza and practicing their slam dunks from 8 p.m. to 8 a.m.
5934 State Hwy. 303 NE
Bremerton
Washington
360-479-7529
---