Bars in Holtsville
---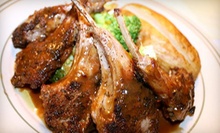 Guinness pints and wood decor evoke Ireland beside fish 'n' chips, bangers and mash, and juicy pork chops in apricot-chipotle-mustard sau
Use Friday 4:00pm - 10:00pm
---
---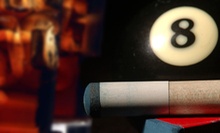 Plush leather furniture, hardwood surfaces & flatscreen televisions await the attention of players breaking racks & sipping sodas
Use Today 12:00pm - 11:45pm
---
Recommended Bars by Groupon Customers
---
Black Bear Saloon may have all the wood paneling of a Wild West watering hole, but it boasts many modern amenities, including 33 plasma televisions that deliver sports from around the globe thanks to a DirecTV sports package. Cooks keep stomachs fueled for the action with a selection of wraps, sandwiches, and Angus-beef burgers.
After a game has aired, the staff dims the lights and cranks up the volume on the bar's speaker system and turns the stage over to a live DJ every Tuesday, Thursday, Friday, and Saturday. On Saturday, before the rise of the moon transforms the mild-mannered dining room into a dance floor, the saloon hosts the kid-friendly Cub Club. The club's staffers lead tykes in crafts, games, and Wii activities, which gives parents time to grab a relaxed afternoon meal or nap on the cool floor behind the bar.
80 Washington St.
South Norwalk
Connecticut
203-299-0711
Giant copper kettles overlook the dining room at Sono Brewhouse, glinting in the light that shines over ornate railings, exposed brick walls, and a colorful collection of flags. Shipped to the United States from a brewery in Germany, these kettles infuse the restaurant with a sense of history and spark visitors' curiosity about the world's many beer-brewing nations. Bartenders fan these flames of intrigue by serving drafts of Paulaner Hefe-Weizen from Germany and bottles of Rochefort Trappist ale from Belgium and Innis & Gunn oak-aged ale from Scotland.
To complement these globe-trekking brews, chefs forge hearty New England-style and international entrees, such as lobster pot pie, Argentine gaucho steak with chimichurri, and wiener schnitzel accompanied by potato pancakes. They explore even more of the world's finest during Sunday brunch, which teems with Italian chicken picatta, Chinese dim sum, and Viennese treats crafted by pastry chef Fran Schuelke. For private events, guests can choose from a variety of buffets, meat-carving stations, and raw bars brimming with freshly shucked oysters and clams.
13 Marshall St.
Norwalk
Connecticut
203-853-9110
Senses come alive when sitting on the plush red couches at Kasbah Hookah Lounge. The sounds of DJs spinning tracks sync with the rhythmic movements of exotically clad belly dancers roaming from table to table, weaving through clouds of aromatic hookah smoke. Customers can puff on more than 85 flavor combinations of the house's 24 Starbuzz shishas, including classic options such as mango, or pairings such as honey, vanilla, and mint. The house also crafts their own signature blends for the five VIP flavors, including cinnamon toast crunch, which pairs apple, cinnamon, and banana. Bottles of wine and pints of beer accompany hookahs on the table, providing all of the fillers for a comfortable night out without having to lug around childhood teddy bears.
2051 Hempstead Tpke.
East Meadow
New York
The brewheads at The Craftsman Ale House serve up tasty fare alongside specialty microbrews, keeping with their philosophy to "drink local, drink craft." Open for lunch, dinner, and private parties, Craftsmen Ale House also treats eaters to happy hour specials, brewery events, tastings, and Beer 101 classes. Taps flow with eight rotating craft brews, and the beer list comes replete with more than 50 bottles and cans of specialty imports and domestic beers.
235 Harrison Ave.
Harrison
New York
914-630-7484
An oversize globe floats above the wine sippers at Beach Gallery & Café, but it is not held up by a freelancing titan. Instead, the sphere perches on a homemade bird's nest symbolic of BG&C's commitment to the environment. Exhibitions of nature photography bedeck the café-cum-art-gallery's warm orange walls, and a portion of each purchase from the menu of frittatas, pastries, and cheeses goes toward environmental efforts. On many evenings, live jazz, soul, and blues music washes down glasses of international and domestic wines or the café's signature coffee drinks such as the corto, a single shot distilled from strong blended beans.
542 Westport Ave.
Norwalk
Connecticut
203-956-5605
The heat from a brick fireplace rises up toward Black Forest Brew Haus's vaulted ceilings, mingling with the warmth from knotted Bavarian-style pretzels and wiener schnitzel. Her arms laden skillfully with an impressive number of full steins, a German woman looks down from a wall mural accented by the nation's red, black, and gold flag. The painting shows the entire process of brewing, from sun-soaked fields to brass kettles.
The eatery's brewmasters recreate this process themselves, stirring batches of wheat and boiling water to forge hefeweizen, an unfiltered, honey-hued beer thick with notes of orange and other fruit. The bartenders also pour house-made pilsner and imperial stouts, all forged according to the German tradition of using only water, yeast, hops, and grain. During warm weather, the brimming glasses click together in the beer garden beneath a crimson canopy.
2015 New Hwy.
Farmingdale
New York
US
631-391-9500
---