Coffee & Treats in Houston
---
Recommended Coffee & Treats by Groupon Customers
---
Today's bite-sized Groupon tamely tempers your sweet tooth with diminutive desserts. For $10, you'll get $20 worth of wee cookies, teensy trifelettes, itsy-bitsy brownies, full-sized cakes, and more from Popadoodle Desserts. Through and Threw: You go through an overly long period of grief when your girlfriend breaks up with you, and you threw up on her new boyfriend's Escalade when you met him.Depravation and Deprivation: An example of your depravation is that you are only attracted to girls who are crying. You experience a deprivation of crying girls because your job as a birthday clown makes people smile.Soul and Sole: This one is difficult because sole doesn't have a you and you are unsure if you have a soul.
5184 Buffalo Speedway
Houston
Texas
US
Woo fruitarians, cacao cravers, and bus crushes with today's Groupon, offering 12 ripe strawberries hand dunked in gourmet chocolate from Acute Events & Catering for $40 ($70 value). The delicious, utensils-not-required delights are a sophisticated and surefire way to satiate and seduce just in time for Valentine's Day and Abraham Lincoln's birthday.
2711 Kipling St.
Houston
Texas
At Tasti D-Lite, patrons can sample a bevy of tasty treats that serve as a healthier alternative to ice cream. Serving health-conscious customers since 1987, Tasti D-Lite offers creamy concoctions that are lower in fat, calories, sugar, carbs, and voodoo spells than ice cream; treats also contain fewer calories than most brands of frozen yogurt while remaining much lower in sugar and burnt curly-fries content. Tasti is crafted from natural ingredients that include real dairy and no artificial sweeteners. Visitors will be able to enjoy over 100 delectable flavors, such as brownie batter, green tea, rice pudding, peanut butter 'n' jelly, and strawberry cheesecake, as well as a variety of smoothies, shakes, sundaes, and cones. Most flavors contain 80 calories or less per 4-fluid-ounce serving, allowing customers to shape up and finally fit into old space suits from the Starfleet Academy. Cups begin at $3.25 for a small, $3.75 for a medium, and $4.55 for a large, depending on location.
3974 Westheimer Rd.
Houston
Texas
Himalayan pink salt, almond marzipan, Mexican chipotle, Moroccan mint tea—these are just a few of the exotic ingredients that the chocolatiers at Araya Artisan Chocolate cull from around the world so that they can infuse their Venezuelan chocolates with complex and surprising flavors. They strive to emulate French and Belgian styles, complementing the cocoa bean's naturally bitter taste with honey instead of sugar. They make each chocolate by hand in Katy, using only natural ingredients devoid of preservatives, artificial flavors, or glowing red serums pilfered from mad scientists. They even make vegan options. These experts decorate each of the chocolates with colorful designs, adorning peanut butter–berry with bright stripes and adding an enticing dollop of green atop the margarita option. Due to their insistence on hand crafting unique bites, they've earned attention from foodies at My Table and the River Oaks Examiner.
2013 West Gray
Houston
Texas
832-967-7960
Bungalow's homey atmosphere extends from the white siding outside to the mismatched couches inside. Retro signage hangs on walls both inside and outside on the patio , and stamped tile surrounds the coffee bar. While surfing the Internet on an iPad borrowed from the store, patrons can sip on coffee drinks made from beans roasted by local purveyor Java Pura. Muffins and sweet biscotti let guests sharpen their teeth without relying on the village grindstone again. Colorful shelves hold a collection of boutique gifts and clothing by local Texas designers.
1219 Marconi St.
Houston
Texas
At Yogurti Yo, groups of friends play board games over cups of pumpkin frozen yogurt, spoon mouthfuls of pomegranate in between Wii games, and analyze the nuanced mouthfeel of red velvet while Googling their own name at a computer workstation. Pumpkin, pomegranate, and red velvet are just a few of the 12 daily rotating flavors that fuel the activities at this sweets shop, which features a café-like atmosphere. All yogurt is self-serve, so customers can mix and match flavors before selecting from more than 40 toppings such as watermelon and Fruity Pebbles. The shop also delicately shaves ice off the cheek of a penguin before sweetening it with condensed milk, a scoop of vanilla ice cream, and two fresh-fruit toppings.
1809 Eldridge Pkwy., Suite 104
Houston
Texas
281-531-1117
---
---
Coffee & Treat Deals - Recently Expired
---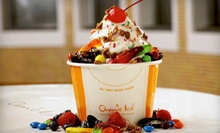 16 rotating flavors of frozen yogurt can be topped with any combination of more than 40 toppings
---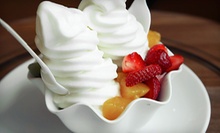 Frozen-yogurt in 12 rotating flavors, including carribean colada and pumpkin pie, topped with any combination of 40+ toppings
---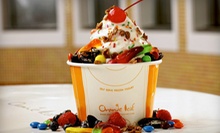 Self-serve spigots dispense swirls of frozen yogurt made with fat-free milk & spoons scoop up servings of candy, fruit & nut toppings
---
---