Mountain View, CA Health and Fitness
---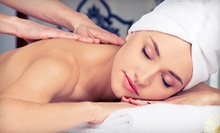 Therapists apply the holistic principles of traditional Chinese medicine to soothe aches and pains with custom massages
Use Today 10:00am - 8:00pm
---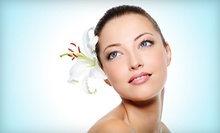 Noninvasive lunchtime procedure gently blasts away dead skin, diminishing fine lines, age spots, and acne scars
Use Today 10:00am - 5:00pm
---
Recommended Health & Fitness by Groupon Customers
---
Today's Groupon flexes, stretches, and twists your soul and body into a purity pretzel: for $25, you get five yoga classes at NuLife Yoga (a $50 value). It's perfect for de-stressing from holiday stresses that include taking difficult family pictures around the holiday tree, singing already-challenging holiday songs in more challenging keys, and building a home computer so you can send out holiday e-cards.There once was a flexible gal, Whose yogic skills never did fail, When forgetting her keys, She just pulled in her knees, And squeezed through the slot for the mail.
25 Dana Ave.
San Jose
California
US
With a year's worth of feasting and drinking under your belt and on your teeth, it's a wonderful time for mouth refreshment. Today's Groupon gets you a cleaning, x-rays, and an oral exam at North Capitol Dental Care for $49 (a $170 value). Now you can use your smile as a flashlight while digging holes at night in your backyard.Follow @Groupon_Says on Twitter.
1902 N Capitol Ave #1
San Jose
California
US
Today's Groupon personally calms your core and gives it the strength to endure all life's bends, loops, and twistywhirls. For $35, you get one private Pilates class and one group equipment Pilates class at Tru-Balance Pilates Fitness Studio in Willow Glen (a $120 value). Expert instruction and a dedication to your body's potential at Tru-Balance will make you a champion Pilatist whose perfect postural muscles will be extolled by troubadors, lonely long-distance runners, and cone tenders for years to come.
1070 Lincoln Ave
San Jose
California
US
Health is more than the absence of disease; it's the overall well being of the physical, psychological, and emotional biospheres. With today's Groupon, greet the new decade with enough health points to definitively settle the Schleswig-Holstein Question. For $20, you get an acupuncture session at the Natural Health Center in Milpitas, a $100 value. Once you have your Groupon, call ahead to schedule an appointment or to get exciting tips on how to halter-break foals.
485 Los Coches St.
Milpitas
California
US
Feel the rejuvenation of yoga in your life and soul as it travels through your body on a yoga raft. For $30, today's Groupon gets you one month of unlimited yoga at Soula Power Yoga, a Best of Silicon Valley yoga studio in 2009.
200 S 1st St., Suite 70
San Jose
California
US
Lokahi Acupuncture's qualified team of licensed acupuncturists help patients to get a handle on everything from chronic pain to athletic injuries using the ancient Chinese art of acupuncture. During each initial 60-minute visit, a friendly acupuncturist holds a 15-minute tête-à-tête with each client to determine the proper course of treatment and conduct a brief diagnosis by examining wrist pulses and tongues for any irregularities or telltale signs of popsicle dependence. Next, clients repair to a treatment room warmed with a soothing heat lamp as soft music puts minds at ease. The well-versed practitioner then treats 4-12 acupuncture points with sterile, single-use pins which, unlike a hospital's hollow hypodermic needles or a porcupine's quill pen, are solid, sharp, and nearly hair-thin, resulting in little to no discomfort.
259 Meridian Ave. , Suite 14
San Jose
California
408-279-9001
---