Oshawa Health and Fitness
---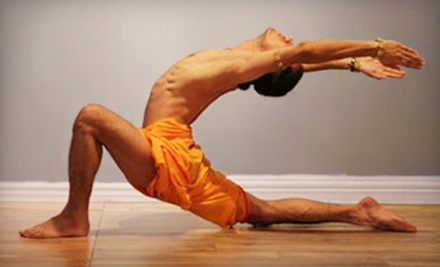 ---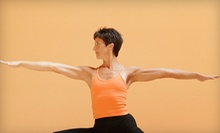 Use Monday 10:00am - 6:30pm
---
Recommended Health & Fitness by Groupon Customers
---
Named after the word tula, which signifies balance, Tula Hot Yoga was created to promote guests' inner and outer harmony and well-being. After a Pilates or hatha- or flow-yoga class—available in a hot or temperate studio—patrons can indulge in spa treatments ranging from herbal body wraps to Ayurvedic facials and massages. Each location evokes a soothing, nature-inspired look, characterized by wood flooring and water fountains. The studios' radiant heating panels, natural cleaning products, and organic spa products also speak to a desire for balance with the earth.
Tula Hot Yoga has built a loyal local following for both its yoga classes and spa services. The Tula West location made a list of Best Health magazine writer Kat Tancock's favourite yoga studios. Studio director Isabel Lambert's "meticulous approach" to sugaring was praised by Fashion Magazine in 2010, and the establishment was voted one of the Best Spas in Toronto in 2009 by readers of BlogTO.
30 Duncan St., Suite 102
Toronto
Ontario
Heat seems to emanate from Fireflow Yoga's cozy confines. It could be the soft lighting or the warm tones of the hardwood floors, but the studio's teachers swear it's the energy flowing through the students in their signature Ashtanga classes. Here, yogis of all levels rehearse poses that summon sweat while they stretch and strengthen muscles throughout their bodies. The instructors, each of whom possesses at least three years of teaching experience, also lead classes for specific populations such as athletes and moms-to-be. The staff keeps its routines up to date by regularly welcoming renowned master yogis to the studio to share their sage knowledge of body-mind alignment and what sound a tree in the forest makes when performing downward dog.
After class, students can peruse the studio's boutique, which teems with sporty, stretchy fashions created by indie designers. Though most classes are designed for adults, the studio hosts kid-friendly activities such as yoga-themed birthday parties and play sessions filled with animal-inspired poses.
172 Eglinton Ave. E
Toronto
Ontario
416-855-3570
Sisters Kerry and Krista Knee combined Kerry's business know-how with Krista's passion for fitness to create Flirty Girl Fitness, an all-female studio that torches calories during more than 100 classes a week. Their hand-picked fleet of all-female instructors teaches a variety of empowering classes, such as pole dancing, strip tease, and power Pilates. The studio also streams entire, uncut classes for Flirty Girl Fitness Live, a program beamed to out-of-towners who want to brush up on their dance moves. Two-hour weekend workshops offer ladies in-depth classes on bar-top dancing or chair stripteases, and nighttime parties host groups of friends in a private studio space as they practice moves to spice up home lives, such as pole inversions, boa twirls, and seductively filing tax returns.
462 Wellington St. W
Toronto
Ontario
416-920-1400
Before there was even an address, there was a mission. Founded in 2004 and opened in 2005, Inspired Life Health Centre seeks to "bring clients to greater levels of health by providing quality health care and education," according to its website. Inside an "un-clinic" atmosphere, a team of registered massage therapists, a naturopathic doctor, a holistic nutritionist, and an acupuncturist help patients achieve wellness with holistic services. Unlike traditional medicine, the centre's homeopathic treatments work to boost the body's innate ability to heal itself without a stethoscope.
5-320 Danforth Ave.
Toronto
Ontario
416-461-8688
Bikers can grunt and sweat, pedalling 25 kilometres in a single session, they'll never travel so much as an inch beyond Legacy Indoor Cycling Studio's 2,000-square-foot space. Instead, Schwinn-certified instructors coach them along imagined paper routes, varying the intensity of hills and curves via the advanced settings on Schwinn Evolution bikes. In each class, up to 30 stationary steeds whir in place, their spokes' constant hum drowned out by the teachers' commands and the high-energy music blaring from a Bose stereo system.
Beyond spinning sessions, the personal trainers also bend bodies in yoga classes and incinerate calories with boot-camp-style circuit training, which incorporates cycling. With almost 30 total classes a week, the studio accommodates virtually any schedule, allowing students to fit in a workout between work and daily appointments to oil their bionic legs.
1506 Danforth Ave.
Toronto
Ontario
LakeShore Links Indoor Golf's sleek, 8,000-square-foot facility helps golf swings avoid offseason rust with nine golf simulators and a duo of instructors that hold lessons year-round. Within the simulators, wall-sized, high-definition screens capture every blade of grass at 23 legendary courses, including Bay Hill and Pinehurst, and built-in video-swing-analysis cameras allow players to scrutinize their techniques, introducing them to a digital doppelgänger soon to be their inferior. Virtual rounds even grant stick-flickers the freedom to take a mulligan with the mere touch of a button, which instantly lets them replay their previous shot. LakeShore's resident aces help groom games with everything from private lessons to junior development programs, and golf-simulator league play helps participants sharpen their competitive edge all year round. As golfers play through a circuit of fairway facsimiles, the club curbs appetites with a menu of very real light fare.
750 Lake Shore Blvd. E
Toronto
Ontario
416-405-9888
---