Things to Do in Roseville
---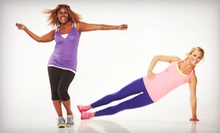 Calorie-burning Jazzercise classes combine cardio dance, resistance training, and kickboxing moves in 60-minute sessions
---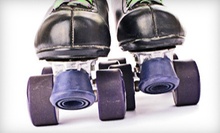 10 youngsters spend up to 2.5 hours on family-owned indoor roller rink before feasting on ice-cream sundaes & drinks in party room.
---
Recommended Things to Do by Groupon Customers
---
Epic voyaging need not be reserved for classical heroes who speak in dactylic hexameter. Just as Odysseus slayed the hurricane from aboard his inflatable raft, you too can conquer vengeful waters with today's Groupon to Gold Rush Whitewater Rafting. For just $50, you'll go on a heart-pumping, rapid-raging tour of the South Fork of the American River (44% off a $90 value).
6260 Hwy. 49
Lotus
California
US
Upon arrival at Alpha Fired Arts, commence the creative process by selecting a ceramic bisque piece from the studio's extensive collection of ready-to-paint artifacts, including plates, platters, cookie jars, and flower pots perfect for storing secret cookies. Next, dig into the depths of your thinker to come up with a design, sketch it out with pencil, and select your glaze colors. If your creativity gets hit with a ceramic block, draw on Alpha's collection of stamps and stencils for inspiration as you craft your masterpiece. When you've finished applying pigment, leave your work behind for a final firing in the kiln. After applying the first part of this Groupon to Alpha Fired Arts' studio fee ($9/adults, $7/kids), which includes the use of brushes, underglaze colors, stamps, and stencils, you can use the remaining value toward up to two ready-to-paint bisque pieces (many cost $5–$20).
4675 Aldona Lane
Sacramento
California
A novice might raise a skeptical eyebrow at a coriander- or sorghum-infused beer, but to craft brewer Erik Schmid, ingredients like these aren't unusual in the least. At The Brewmeister, Erik teaches small groups of students to concoct liquid refreshments that are both distinctive and tasty. Beer-brewing classes cover the basics of fermentation, proper sanitation practices, and how to funnel beer into bottles or directly into bellies. Though Schmid prepares batches of seasonal ales in brewing classes, he can advise students on any brewing technique.
Those who wish to pursue the art of home brewing can purchase brewing equipment and ingredients such as malts, barley, and hops in The Brewmeister's shop. Schmid also stocks wine-making materials, including a variety of yeasts and rental presses with which to extract juices from grapes or grape-flavored juice boxes.
802 A Reading St.
Folsom
California
Potter's wheels whirr inside Lost Arts Ceramics' studio, where artists sit hunched over mounds of damp clay and mold the sticky earth into urns or bowls. The studio, gallery, and school is dedicated to the proliferation of the tactile art—during hands-on pottery classes, couples can create a permanent representation of their all-too-fleeting love, and groups can stop in and craft sculptures or functional art pieces. In the future, Lost Arts plans to expand into a nonprofit art organization, working with children and adults with special needs.
10018 Fair Oaks Blvd.
Fair Oaks
California
916-904-2489
Stadium lights reflect off of the pavement. Engines roar as cars whip around curves and weave in and out, jockeying for pole position just as they cross the finish line. This racing scene is a familiar one at All American Speedway, which has witnessed many of the stock-car world's best drivers take to its paved stage. Their yearly schedule stretches from March until October as spectators young and old watch street-stock cars, modifieds, late models, vintage cars, and even vintage penny farthings circle the high-banked oval track.
800 All America City Blvd.
Roseville
California
916-786-2025
The staff at American Visions Art Gallery know that shopping for artwork can be intimidating. So when customers fall in love with a piece at the Sutter Street shop, they can bring it home, hang it up, and continue to stare at it for up to 48 hours before making a final decision. It's all part of the gallery's at-home trial system, which enables clients to make sure a piece fits in with their decor and won't come to life at night. They can test-drive pieces from a vast selection that includes originals and limited-edition work from 60 artists, and special receptions allow prospective collectors to rub elbows with one of the shop's featured artists between bites of light hors d'oeuvres. The shop also provides framing services for a range of personal pieces, and curates a curriculum of paint-and-sip workshops, where novice brushstrokes are steadied by a complimentary glass of wine.
705 Sutter St.
Folsom
California
US
916-351-1623
---