Things to Do in Roseville
---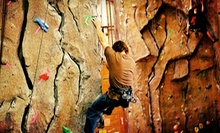 Instructors teach the basics of tying in ropes and securing your partner's rope during the class; day passes include unlimited climbing
---
Recommended Things to Do by Groupon Customers
---
Epic voyaging need not be reserved for classical heroes who speak in dactylic hexameter. Just as Odysseus slayed the hurricane from aboard his inflatable raft, you too can conquer vengeful waters with today's Groupon to Gold Rush Whitewater Rafting. For just $50, you'll go on a heart-pumping, rapid-raging tour of the South Fork of the American River (44% off a $90 value).
6260 Hwy. 49
Lotus
California
US
Upon arrival at Alpha Fired Arts, commence the creative process by selecting a ceramic bisque piece from the studio's extensive collection of ready-to-paint artifacts, including plates, platters, cookie jars, and flower pots perfect for storing secret cookies. Next, dig into the depths of your thinker to come up with a design, sketch it out with pencil, and select your glaze colors. If your creativity gets hit with a ceramic block, draw on Alpha's collection of stamps and stencils for inspiration as you craft your masterpiece. When you've finished applying pigment, leave your work behind for a final firing in the kiln. After applying the first part of this Groupon to Alpha Fired Arts' studio fee ($9/adults, $7/kids), which includes the use of brushes, underglaze colors, stamps, and stencils, you can use the remaining value toward up to two ready-to-paint bisque pieces (many cost $5–$20).
4675 Aldona Lane
Sacramento
California
A novice might raise a skeptical eyebrow at a coriander- or sorghum-infused beer, but to craft brewer Erik Schmid, ingredients like these aren't unusual in the least. At The Brewmeister, Erik teaches small groups of students to concoct liquid refreshments that are both distinctive and tasty. Beer-brewing classes cover the basics of fermentation, proper sanitation practices, and how to funnel beer into bottles or directly into bellies. Though Schmid prepares batches of seasonal ales in brewing classes, he can advise students on any brewing technique.
Those who wish to pursue the art of home brewing can purchase brewing equipment and ingredients such as malts, barley, and hops in The Brewmeister's shop. Schmid also stocks wine-making materials, including a variety of yeasts and rental presses with which to extract juices from grapes or grape-flavored juice boxes.
802 A Reading St.
Folsom
California
ReCREATE's approach to conservation unleashes the inner outsider artist in all who enter the center's cheery, well-organized studio. The guerrilla-crafting cooperative rescues unwanted office supplies, retail detritus, and industrial byproducts from a destiny of landfill lining, in the process building a vast repository of reusable craft materials. Drop-in sessions ($5 each) allow developing da Vincis to create milk-jug masks and packing-foam puppets to their hearts' content. Conservational crafters purchase bulk supplies from the studio's bins of cast-off designer-fabric samples, cigar boxes, paper, tile chips, cardboard, and more, while reCREATE supplies scissors, glue, and any other necessary equipment. Amateur artists of all ages can spontaneously generate boats, figurines, and dioramas in-studio, or shop for materials to build a man-sized version of Mouse Trap at home.
414 Vernon Street
Roseville
California
After witnessing 3-year-old Kathy Pead's connection to the ponies at a roadside amusement park, the park's owner recommended that Kathy's father enroll her in riding lessons even before the minimum age of 7. Since owning her first horse at the age of 15, Kathy has worked tirelessly to share her enthusiasm for the animals, teaching hands-on lessons and slowly building up her business. After stints in England and Australia, she's settled in the Sacramento area, where her stables sprawl across 2.5 acres that include two well-maintained arenas. She and her staff—which includes her daughter, Jenny—prioritize safety and fun as they teach students how to read a horse's body language and hear the sentences it mumbles in German between whinnies.
9065 Oak Ave.
Orangevale
California
916-987-1667
A bounty of firearms supplies bolsters Ammo Depot's roster of gun training and safety courses. During the Handguns 101 course, first-timers learn how to operate a firearm by reviewing ammunition and firearm fundamentals, shooting positions, and handgun-cleaning techniques before testing out their newfound skills at the range. Instructors also enlighten pupils with a trio of NRA courses, which include the Basic Pistol course, Personal Protection Inside the Home, and Personal Protection Outside the Home courses. Back in the shop, ammunition comes by the box or in bulk, and visitors can peruse a selection of targets, ear and eye protection, or basic firearm accessories.
12181 Folsom Blvd., Suite B
Rancho Cordova
California
916-985-4668
---