Things to Do in Oakland
---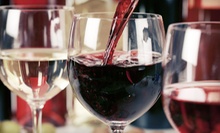 Amid Blu Restaurant's contemporary pendant lamps and floor-to-ceiling windows, guests sample the tannins and flavors of several wines
Use Wednesday 4:30pm - 7:30pm
---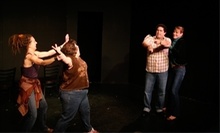 Acclaimed improv troupe whips up on-the-spot laughs hewn from audience members' ideas
Use Friday 12:00pm - 9:30pm
---
Recommended Things to Do by Groupon Customers
---
It was Lily Riesenfeld and Leila Burrows' respective passions for Pilates and yoga that spawned The Pad, a tranquil wellness center highlighted by geometric mirrors and Victorian-chic accent walls. Featured in SF Yoga Magazine, The Pad caters to men and women of all ages and fitness levels by offering a diverse schedule of private, duet, and group yoga and Pilates classes. Skilled instructors, each with their own set of specializations, lead sessions ranging from Vinyasa power to prenatal and postpartum classes, helping students find balance through controlled breathing, strategic movements, and attempts to drip all sweat beads into a single thimble. The studio is set at a consistent 75 degrees, keeping muscles warm and toxins crawling far away from bodies.
1690 Union Street
San Francisco
California
US
415-929-1690
When attempting to overcome the negative energy that may inhibit your career advancement, love life, and other pursuits, you must make sure your energy is first read properly. Chakra, Rose, and Aura Readings are the premier energy-healing technology. Steer clear of other methods:
972 Valencia St.
San Francisco
California
US
The Wax Museum at Fisherman's Wharf introduces visitors to more than 250 of history's most notable personas with a labyrinth of realistic sculptures situated in elaborate displays. More than 50 scenes span the entire museum, providing ample room for the paraffin personalities to depict a millennium of historic milestones and portray the contemporary world's most popular candles. Wax artisans craft an array of themed exhibits including the far-reaching History section, in which humanitarians, scientists, artists, and dictators live out the impacts they placed on the world. In the Palace of Living Art, patrons witness the inception of their favorite masterpieces, admiring as Mona Lisa sits for her immortal portrait. King Tut's Magnificent Tomb unveils the life of one of the ancient world's most well-known rulers, and the Presidential Library brings past U.S. leaders together to finally determine which one left the milk out.
145 Jefferson St.
San Francisco
California
415-202-0416
The detail-oriented instructors at Art a la Cart take students through each painting step-by-step, showing them how to mix and blend their own colors and build compositions from the background without having to first live among paintings in local art museums. They supervise students in a themed class series as they paint still-life fruit and candies, portray whimsical landscapes, depict parts of the San Francisco skyline, or emulate the style of a classic artist. Groups explore each subject and question its lack of Renaissance cupids in one of five locations, which include wine-cellar tasting rooms, underground wine bars, and a modern minimalist cocktail lounge. Staff members supply all acrylic paints, brushes, and other gear for each class; and though they don't provide any libations, instructors encourage participants to bring or purchase their own drinks.
100 Webster St., Suite 100
Oakland
California
510-463-1444
The tech-savvy staff members at Blue Sky Rental Studios lease three varied studio spaces to clients for multimedia, film, and still-photography shoots. Two studios with multipurpose floors and white industrial walls bathe subjects in natural light spilling in from tall, white windows. The Light Grid studio's four walls and ceiling are inlaid with digitally controlled studio lighting, enabling photographers to join forces with a robot without having to promise their camera's hand in marriage. Outside these three creative spaces, a 7,000-square-foot hall hosts a range of private events such as weddings and new-equipment showcases.
When not hosting creative talents, Blue Sky staffers contribute directly to the process as they provide camera gear and accessories, photography and production assistants, and services such as location scouting and casting. They can also aid in completing a photographer's digital workflow with postproduction work, secure-image archival, and hand-drawing mustaches on models in each photo.
2325 Third St., Suite 434
San Francisco
California
415-626-7232
The third annual Ceramics Annual of America expo takes over Festival Hall in San Francisco, bringing with it thousands of visitors and a diverse array of ceramics. Dozens of featured artists—who hail from California as well as from farther-flung locales such as Mexico and Italy—offer professional insight via artist-panel discussions and display their wares at personal kiosks. These works range from decorative statues and figures to functional pottery, conceptual art, and recreations of King Tut's favorite dish set.
1 Fort Mason, Marina Blvd.
San Francisco
California
877-459-9222
---