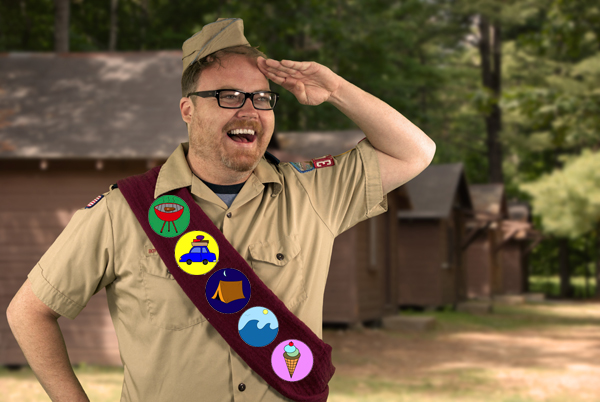 From grilling to road tripping, we've picked these activities for maximum warm-weather awesome. Can you win summer by earning the merit badge for each one?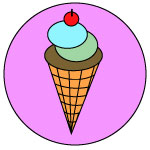 BEAT THE HEAT (June 16–20) We all love the sun, but sometimes even the best-loved star overstays its welcome. Take refuge with these cooling activities.
CAFFEINE JUNKIE | Mix cold-brew coffee into cocktails for a pick-me-up that also cools you down. MOVIE LOVER | Get out of the sun and into the multiplex with these six looks inspired by summer-blockbuster films. SHAVED-ICE CONNOISSEUR | Give your snow cones a grown-up edge with Jo Snow's artisanal syrups—plus a little booze. SODA JERK | Enjoy turn-of-the-century taste and modern convenience in the Brooklyn Farmacy's easy-to-make egg cream.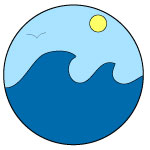 BEACH DAY (June 9–13) Feel the sand between your toes and the sound of surf in your ears as you earn this beach-themed badge.
PICKY READER | Avoid these 10 terrible beach reads to make sure your day in the sun stays fun. VILLAINOUS VACATIONER | Make a stylish splash by donning swimwear inspired by your favorite movie and TV villains. WELL-PREPARED PACKER | Don't forget these seven items that make any beach day better. BEACH ATHLETE | Spike and set with authority when you follow this Olympic gold-medalist's beach-volleyball tips. SEAWEED AFICIONADO | Savor the oceanic taste of edible "sea vegetables" like kombu, wakame, and sea palm.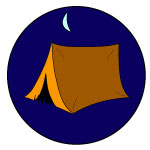 THE GREAT OUTDOORS (June 2–6) These camping and hiking tasks will get you closer to nature without making nature a mixtape of lovesick campfire songs.
CRAFTY CAMPER | DIY outdoor supplies from bug spray to a flashlight lantern. STARGAZER | Visit these astronomers' favorite stargazing sites across the country. INTERIOR DESIGNER | Decorate with rustic, vintage decor inspired by a summer camp for grown-ups. MARSHMALLOW MAESTRO | Go beyond boring old S'mores with these creative roasted-marshmallow recipes. BEAR TAMER | Keep your Cliff Bars safe from grizzlies with these food-centric camping tips from an REI Outdoor School instructor.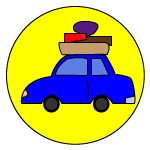 ROAD TRIP (May 26–30) It's about the journey, not the destination. Earn this badge by making that journey awesome.
PHOBIA-FREE | Road-trip to these terror-inducing destinations to finally confront your thalassophobia, tomophobia, and other weird fears. WINNEBAGO DRIVER | Follow Lost Girls Vintage's tips to crisscross the country stylishly in an old-school RV. CAR-STEREO KING | Put on this kid-friendly road-trip playlist to quiet cries of "Are we there yet?" STYLE SEARCHER | Admire Victorian hair art, Balenciaga gowns, and Austin Powers' velvet suit on this fashion-centric trip itinerary. HUNGRY HOG | Steer your chopper towards these motorcycle-friendly spots picked by RidetoEat.com founder Steve Jones.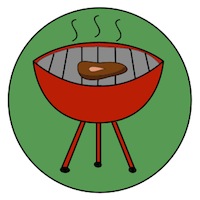 BACKYARD BARBECUE (May 19–23) If you complete all these grill-centric tasks, then pat yourself on the back: you've thrown an outdoor cookout to remember.
GRILLMASTER | Follow a Brooklyn butcher's tips to griddle juicy, sustainably sourced burgers. HOME PICKLER | Add spark to your side dishes with Top Chef judge Hugh Acheson's recipe for classic dill pickles. BBQ DJ | Get your guests moving with this playlist from Three 6 Mafia founding member DJ Paul. PRETTY PATIO | Gussy up your outdoor space with these easy decor ideas from our staff. GROWN-UP DRINKER | Do shots, but better than you did them in college.

You did it—Roy Scout has earned all his badges! But summer's not over. Check back as our staff continues to update this page with awesome summer articles and activities. Photos: Collin Brennan. Illustrations: Jen Jackson.