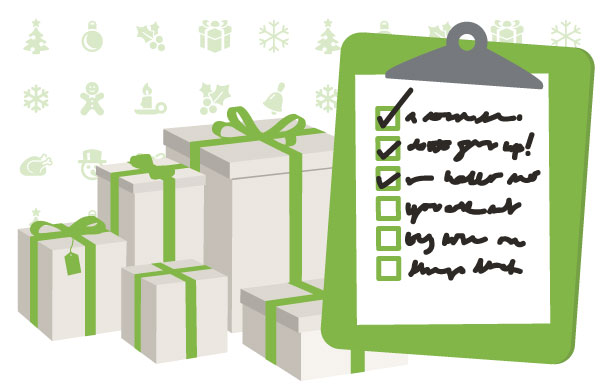 It's easy to tell when the holidays hit Chicago: a Christmas tree in Daley Plaza towers over the annual Christkindlmarket, the windows of the Marshall Field and Company Building come alive with intricate tableaus, and Santa Claus thunders down the L tracks aboard a holiday train festooned with lights. With so many sights to see, how do you decide on the best way to celebrate wintertime in the city? Our Guide is here to help. Check out our three categories of coverage below.
Food & Drink Gift guides for foodies, recipes to ward off the chill, and restaurant recommendations for holiday dining.
Holiday Gifts for Tea Drinkers with Help from Argo Tea
Four Chicago Chocolate Shops and Their Delectable Gifts
Eight Local Coffee Gifts to Add Pep to the Holidays
Four Holiday Treats That Kick the Gingerbread Man to the Curb
Five Europhile Foodie Gifts from Gene's Sausage Shop
Six Versatile Wines for Holiday Feasts
Arts & Leisure Upcoming plays and concerts, top family activities, and playlists that suit the season. Top Holiday Concerts for When You're Sick of Singing Along to Mariah Carey in the Car
Kids' Holiday Events That Are Way More Exciting than Visions of Sugar Plums
Nine Places to Debauch Yourself with Friends this Season
Five Places to (Almost) Avoid the Holidays
These Holiday Movie Screenings Beat Watching "Love, Actually" on Netflix
Rock Around the Christmas Tree with Logan Hardware's Holiday Playlist
editors Weigh in on Five New Holiday Albums for 2013
Style & Beauty Holiday shopping advice from local experts, the city's best gift shops and seasonal markets, and the how-tos of throwing hit parties.
Holiday Gift Advice from the The Guide to Style & Beauty
Geek Out Over These Gift Ideas from Chicago Comics
A Makeup Artist Picks the Best Beauty Gifts at Sephora (and CVS)
Make This Coal Plush Ornament for the Naughty People on Your Gift List
Peterson Garden Project's Holiday Market Isn't Just for Green Thumbs
Go from Work to a Holiday Party Without Changing Clothes
Five Handmade Gifts at Christkindlmarket
The Five Hardest People to Shop for (and Where to Shop for Them)
Five Holiday Gifts from L'Artisan Parfumeur
Shop These Small-Business Sales If Black Friday Makes You Blue
Aprons Your Dinner Clothes Will Give Thanks For